Bats Rout Bisons 20-7 as Chapman Struggles
Submitted by: admin

05 / 04 / 2010
---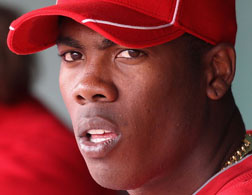 (wgrz.com) We finally got to see what all the fuss was about, and while young Aroldis Chapman still has some work to do, he is worth the $30 million dollar fuss the Cincinnati Reds have made over him.
Chapman is on his way to the Cincinnati Reds, probably sooner rather than later, but Monday night he was pitching for the Louisville Bats against the Buffalo Bisons at Coca Cola Field in just his third AAA start since defecting from Cuba and eventually signing a rich contract for 6 years with the Reds organization.
Through the first three innings, the tall and lanky Chapman looked all but unhittable, twice throwing fast balls clocked at 100 mph with another handful hitting 99 or close, which is even more impressive considering he's a lefthander.  But Chapman seemed to lose a bit off the fastball as well as a bit of composure in the 4th inning when the Bisons finally got to him.
Maybe it was the 7-0 lead the Bats, who came into this game with a 7-game losing streak, had staked Chapman that was part of the problem, but the Bisons didn't seem at all intimidated once they started swinging the bats.  They scored 6 runs - all earned - off Chapman in the 4th, once stringing together four straight well hit base hits.
The Bats eventually went on to rout the Bisons 20-7, giving Chapman his second win against a loss, but his e.r.a. balooned from just over one to over three, as he was tagged for 6 runs on 9 hits in 5 innings pitched.  He did have 8 strikeouts and walked only one, and also showed what a talented athlete he is by doubling and singling in two at bats.
Watching Chapman pitch is an experience, though.  He looks intimidating to begin with, and seems to snap the ball toward the plate with little effort.  Still, the high heat by itself isn't enough, even at the AAA level.  Chapman did throw an occasional off speed pitch or hard slider, and when he found the plate, he was awfully tough.
When he was getting tagged though, he seemed to let up a bit on the fastball to throw strikes when he was behind in the count, and that's when the Bisons found he was hittable after all.
Still, this young man looks worth every penny of the Reds' investment;  afterall, you can't teach a 100 mile an hour fastball.
Source.www.wgrz.com/
---
Related News
---