Capablanca Memorial Chess Tournament to Be Held at Riviera Hotel
Submitted by: admin

05 / 03 / 2010
---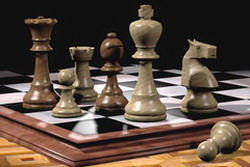 The Capablanca Memorial Chess Tournament is scheduled to take place June 9th through the 22nd at Havana's Riviera Hotel, national chess commissioner Osvaldo Díaz told Juventud Rebelde.
This year tournament features a very elite group with an ELO average of 2700 including Ukrainian GM Vassily Ivanchuk, British GM Nigel Short and Russian GMs Evgeny Alekseev and Ian Nepomniachtchi.Representing Cuba are GMs Leinier Domínguez and Lázaro Bruzón.
Other players to watch during the tournament are two young GMs from Russia Ildar Khairullin and Vladimir Potkin, both with ELOs above 2600; and Peruvian Emilio Córdova and Paraguayan Alex Bachman, Potkin finished second and Córdova third at last year's event.
Cuba is also represented by six other players Fidel Corrales, Yuniesky Quesada, Jesús Nogueiras, Holden Hernández, Omar Almeida and Isam Ortiz.
The Capablanca Memorial is a chess tournament that has been held annually in Cuba since 1962. José Raúl Capablanca y Graupera (1888–1942) was a famous Cuban chess master who was World Champion from 1921 to 1927.  
Source: RHC
---
Related News
---