Artists from 20 Countries in Cuban Festivities
Submitted by: admin

05 / 01 / 2010
---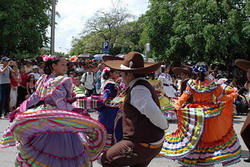 Havana, (Prensa Latina).- Over 200 artists from 20 countries will take part in May Festivities (Romerías) in the young creative festival dedicated this year to the Canadian city of Toronto.
Representatives of Mexico, Brazil, Argentina, Ecuador, Canada and almost all the Caribbean community will cheer up the event that each year has as venue the eastern city of Holguin.
The May festivities recreate a tradition of religious origin and turned into popular fiesta where all artistic manifestations converge.
In a press conference, the president of the Association Saiz Brothers (AHS), Luis Morlote, said the festival will also pay tribute to Latin American and Caribbean integration and the 50th anniversary of the Cuban Institute of Friendship with Peoples.
The academia event Memoria Nuestra will open with a panel led by Pablo Guayasamín, son of the late Ecuadorian painter Oswaldo Guayasamín, dedicated to the work and the nine decades of the birth date of the Chapel of Man Creator.
About 40 exhibitions will be inaugurated in the Project of fine arts Babel, among them The best 100 artists of the 20th Century, by Ecuadorian Fernando Coral.
A conversation with Cuban filmmaker Fernando Perez is among the main courses of the event on the audiovisual Blue Camera. His most recent film will also be screened, Marti: The Eye of the Canary.
Musicians of the Brazilian jazz quartet of Fuxe de Cuernavaca, the Mexican rock band Eva Lumbre and their colleagues of the strings orchestra Divertimento will be present.
The festivities began in 1994 on the initiative of the AHS and are considered the popular festivities with largest attendance. They summon poets, troubadours, rockers, rappers, folkloric groups and fine arts creators.
This event also attracts stage artists, filmmakers that join the people in streets, parks, cultural institutions to express ideas, listen and also to have fun.
By: Elsy Fors
Source: PL
---
Related News
---