May processions and Cubadisco 2010 in Holguín
Submitted by: admin

04 / 25 / 2010
---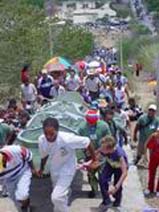 Holguín, The Pilgrimages (Romerias), dedicated to the Canadian city of Toronto, to the solidarity among the nations and to the anniversary 50 of ICAP (Cuban Institute of Friendship with Peoples), as well as to the centennial of José Lezama Lima birth date, are announcing their usual spaces for joy of those who expect the event during the whole year.
The event will be held from the 2nd to 8th of May. So far 279 personalities from 12 countries have confirmed their attendance.
But, not only will the Pilgrimages open up in May. Twenty-four hours after the Workers Day, at 8 in the night, will start here the longest Canturía (Song) in the world (336 consecutive hours).
It will last 24 hours in each province. The XIV International Fair CUBADISCO 2010 will open up this way (from the 15 and until the 23), centered this time in the rural music, with improvisers from all over the world as guests of honor.
The CUBADISCO 2010 in Holguín will welcome the presentation of the CD Mi son elegante (My elegant son), of the sextet Oyarí, a children gala at the Ismaelillo cinema - theater, with children interpreters of the rural music, guateques in Velasco and San Andrés rural communities, as well as the nomination of the video clip to Despertar en el lomerío (Wake up in the mountains), by the ANIMA studios, made by Yenia Lafargue and Florentine Jamelison, based on a song performed by the boy José
Antonio Pérez.
This year among the nominations to people from Holguin to the CUBADISCO award, it is worth mentioning the poet Rafael (Felo) García, the traditional group Cacoyuguán, the Acosta family, the organ Hermanos Ajo, the poet Ronel González, the soloists Oneyda Parra and Adolfina Sánchez, the radio newsreader Sergio A. González Valero and the radio program Fiesta en el campo (Party in the countryside), of the provincial radio station Radio Angulo.
By Leandro Estupiñán
Source: ahora.cu and Cubarte
---
Related News
---