A Cuban Company Taking on Its Traditions and Ballet
Submitted by: admin

04 / 05 / 2010
---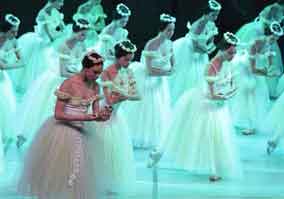 The National Ballet of Cuba came to fame as the project of the ballerina Alicia Alonso, who founded it in 1948.
During her exceptionally long stage career and despite the presence of other good dancers, she often eclipsed her own company.

Now that she has retired from performing, her company and school have gone on producing dancers of note, including Carlos Acosta, one of the school's most celebrated alumni.
He and other dancers have become better advertisements for their alma mater than Ms. Alonso herself.

But apart from its stars, how is the National Ballet of Cuba faring? The company, including Mr. Acosta, is appearing at the London Coliseum.
"Swan Lake" took up its first week, while a mixed bill is filling its second and final week. I chose to watch "Swan Lake" on a non-Acosta night to get a better sense of the company.

The main impression left by the Friday-evening performance was that of a lively but old-fashioned provincial troupe. In most respects its work is Havana-accented Russian stuck in a time warp: half old Soviet, half touring Ballets Russes.
This isn't dull; it is often bizarre. I kept thinking, "But I haven't seen anyone dance like this for 20 years."

The company is also strangely inconsistent. In Act I the women mostly avoided high extensions of the leg, but then Masiel Alonso, as a peasant girl, did a solo in which her raised leg in arabesque kept reaching way above her head. And in Act III Anette Delgado, as the antiheroine Odile, threw her leg sideways so high she nearly clouted her partner (Javier Torres) in the ear.

The ensemble tended to keep strict time, with several phrases that made the swan-maidens of Act II look alternately mechanical or martial. But in several solos, performers lagged behind the music.

Amid the famous waltz of the swans, the two leading swans did a sequence of identical steps, but one was always a count behind the other.

The grand simplicity of the arms of the corps de ballet of swan-maidens in Act II and the epilogue was frequently beautiful, yet at times their hands made heavily angled effects that didn't continue the body's line into space.
They looked instead, at least to this alien eye, like a superimposed and insincere idea of old Bolshoi swan deportment.

In Acts I and III the company was engaged, bright, festive. It was a particular pleasure to notice how freely the dancers moved their torsos from side to side.
They all paid enthusiastic attention to one another. The feet weren't elegant, but the footwork was brisk.

In Act II and the epilogue the swan-maidens were solemnly regimented; it seemed as if they could dance up a storm if only they were in some other ballet.
The drama they suggested kept changing. Here they stretched those arms like proud swan wings, there they pranced in very emphatic clip-clop steps, like horses doing dressage.

In most respects the production looked like a country cousin of the ones the Bolshoi was doing in the 1950s.
After all the many other "Swan Lakes" set in various eras from the Renaissance to the 1960s, it's a relief to see this ballet in the mythic-chivalric Middle Ages of Grail legends, just as Tchaikovsky's music plainly intends.

The choreography is attributed to Ms. Alonso "based on the original by Marius Petipa and Lev Ivanov."
A few of her departures, as in the traveling lifts added to the Act I pas de trois, are attractive and fresh, most of them are harmless, and a few are just odd.
This isn't the first "Swan Lake" that ends happily, with the prince vanquishing the sorcerer Von Rothbart, but it's the first I've seen in which the heroine Odette and her court are restored to colorful medieval clothes and her entire city brought into view.
There is a peskily cute Jester, but one far less intrusive than the one in New York City Ballet's version or some Russian productions.

The women all gave the impression that they knew how to hold a static balance on point, and Ms. Delgado, as Odile, held several ad tedium.
Tedium anyway pervaded the Act III virtuoso pas de deux that she danced with Mr. Torres, a stodgy affair of point-scoring tricks, dull even as camp melodrama.
In Act II they showed that they knew theirs was a moving scene even if they themselves weren't actually moving or even moved.
They drew attention to big moments when this damsel in distress and prince cast beseeching looks at each other without once trying to make the ballet into a psychological drama about adults.

What's hardest to work out is how these Cubans used their backs. There was no modern gymnastlike exaggeration.
There were several good signs of fluidity and freedom, but often there was an inexpressive stiffness.
As with films and photographs of mid-20th-century ballerinas like Tamara Toumanova,I could see I was watching a style; I just couldn't comprehend which bits were meant to be stylish.

I hope that the Cubans' mixed bill, "Magia de la Danza," shows other faces of the company. What was most disappointing about this "Swan Lake" was that while some dancers were strong, none were compelling. You felt that all the best Cuban ballet dancers have moved on, and that these are the ones left behind.

By ALASTAIR MACAULAY

Source: The New York Times
---
Related News
---