Restoration works in the future center of Cultural Anthropology in Camaguey city
Submitted by: admin

04 / 05 / 2010
---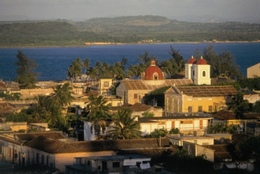 One buildings with the highest patrimony value close to the Cathedral and to the Agramante Park of this city, which historic centre was declared Patrimony of Humanity, is in the process of restorations following a project which will turn it into a Centre of Cultural Anthropology.
Following its renovation in 1930, the building has an eclectic facade and art noveau decorations. The building belonged to the Camaguey poet Aurelia del Castillo, who inherited it from her father and years later this property belonged to the Rovirosa family.
Its first colonial characteristics were replaced by architectonic elements on the cut during the first half of XX century due to the US influence, but its use after the revolution as a management building of the CUPET Company, deteriorated several of its elements.
Its privilege location, in the heart of the city of Camaguey, was the reason the building was chosen to be used as a research centre to preserve the patrimony of the different ethnical and cultural groups that constitute the local idiosyncrasy.
The centre will have four halls with permanent exhibitions, taking into account the four regions that created the Cuban culture: Europe, America, Asia and Africa. It will also have a transitory hall which will exhibit social and cultural projects as well as other topics.
The Centre of Cultural Anthropology will rescue, research and promote the historic memory of the hundred years old city and each hall will have a specialist, as it is the case of the Spanish one, according to the presence in the XX century, of the five regions that made a bigger influence in the formation of the people from Camaguey: Galician, Canary Island, Asturias, Catalonians and Cantabrian.
The work will be open to the public between 2pm and 8pm, a time when the public can see live the difficult restoration work of the mural paintings carried out by the students of the Trade School of the Office of Historian of the City (OHCC, after its initials in Spanish).
The paintings are from 1930, the year of the rebuilding of the house and were decorated by the artist Joaquín Miranda Sagol, who lived in that city.
Its restoration is in the clearing stage by removing two layers of vinyl that were painted over the murals and a layer of lime which is also deteriorating the work.
The restoration work also includes the consolidation of an original pictorial layer and of different part of the wall, which lost the originality as well as the removal of cement, plaster, wooden orifices and nails, which make the restoration work very long.
The marbles of the central patio are already in place and the old baking oven has already being rescued.
Source: www.adelante.cu and Cubarte
---
Related News
---