Siboney Sugar mill the first to accomplish sugar harvest plan
Submitted by: admin

04 / 03 / 2010
---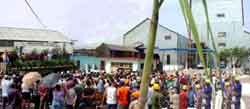 Triumph whistles and joyful music beats characterized the spontaneous celebration of the workers to celebrate the achievement: Siboney sugar mill became the first one of its kind to complete the sugar production plan in the whole country.
The workers of the Sugar Enterprise are the only ones in the territory led by a woman, Yolexis Guerra Gómez, one of the four Cuban women who run a sugar mill.
Eighty productive days were necessary to yield 11 593 metric tons   of sugar, showing an excellent 76% use of the installed capacity which means less sugar cane and scarce wasted time. The sugar mill will remain active to provide more sugar to the provincial productive plan.
The industry had a considerable fuel saving mainly due to the self-providing power system which also allowed generating 84 mw/h to assist the National Power System (SEN); a clear sample of the effectiveness of the sugar mill in the present harvest.
Other two sugar enterprises, Noel Fernández and Brasil contributed with systematic sugar cane supplies; meanwhile, the railroad system was the responsible of bringing to the Siboney more than 40% of the total raw material.
During the act to honor the mill staff, First Vice-Minister of the sector, Orlando García Rodríguez, read a congratulation sent by Sugar Minister Luis Manuel Ávila González, who affirmed in his letter "We are requiring of many good examples like you."
Source: Adelante.cu
---
Related News
---