Tinima, a giant among Cuban breweries
Submitted by: admin

03 / 29 / 2010
---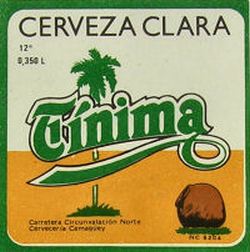 The Brewery "Tínima" appears as another company of the then Empresa de Bebidas y Licores Camagüey, and it is not up to 1997 that it becomes an independent company belonging to the Association of Breweries with legal status.

Tínima, a giant amid Cuban breweries The brewery uses German technology, based on the system of continuous fermentation speeded up in conical cylinders reactors; it was designed for an effective capacity of production of one million hectolitres

per year, and a personnel of high qualification work in it, says José Cabrera Balboa, director of the company.

Tínima produces and commercializes: beers, malts and other soft drinks in a competitive atmosphere, on the base of a participative labour and committed climate, in order to satisfy the preferences and needs of the national market, with participation in the foreign market.

Tínima's products are manufactured with Cuba's best mineral-natural underground waters and the productive process is based on two fundamental areas, one is that of elaboration where modern technologies are used; and the other one, is the bottling and canning one.
The Tínima brewery is recognized by the excellence of the products that sells and high professionalism in its services.
Its workers are trained by brewing teachers, with more than 18 years of experience, most of them trained in Europe, mainly in GDR Breweries, and at the moment they study and regrade in noted European universities.

At the moment, Tínima is a company sophisticated and of National Reference, and has been awarded with the National Prize of Quality.

Its impact in the territory was new and important, because for the people in Camagüey, having its own brewery used to be an old yearning.

Aside from generating new jobs, and increase the production of goods, this factory contributes to the improvement of the standard of living, the food and the leisure industry.

Source: Radio Cadena Agramonte

---
Related News
---