Spanish Senate Turns Down Motion Against Cuba
Submitted by: admin

03 / 25 / 2010
---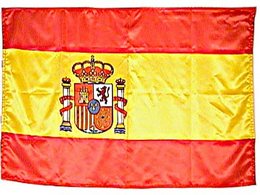 The Spanish senate turned down Wednesday a motion against Cuba which urged the Government of Madrid to change its stance regarding the island and to maintain the Common Position of the European Union (EU).
The initiative failed for 126 votes in favor opposing 121 right-wing senators and eight abstentions.
Among other aspects, the motion demanded Spain to stop acting to have the European community block cancel the Common Position, a unilateral measure passed in 1996 in which the EU aligned with the United States on its anti-Cuba policy, with the support of President at the moment Jose Maria Aznar.
Francisco Vallejo, spokesman for the Spanish socialists, said he did not agree to give up dialogue with Cuba, reported EFE agency.
The parliamentarian from the United Left coalition, Joan Joseph Nuet celebrated the defeat of the PP senators and noted that their extreme stance was scary even for the Righ itself.  
In the debate, it was left clear the majority's hope for the EU to change its policy and to bid for dialogue with the island as the only efficient mechanism, Nuet stated.  
Jose Manuel Perez, senator for Bloque Nacionalista Gallego, reiterated the condemn of the US economic, financial and commercial blockade against Cuba imposed nearly 50 years ago.
Perez also asked that the situation of individual freedoms across the world be evaluated and for the Cubans' right to make their own decisions to be respected without interferences of any kind.
Promoted by the conservative Popular Party (PP), the failed motion was intended to condemn Havana for the recent death of a common prisoner, Prensa Latina reported.
The prisoner in question was a violent man who nearly killed another Cuban, Leonardo Simon, in 2000 with a machete with which was seriously injured and was given a cranial fracture.  
Having a TV set, a stove and telephone on his cell where the prisoners' demands that drove him to go on a hunger strike that led him to his death.
The prisoner has been trialed for several crimes including unlawful entry (in 1993), minor lesions (2000), rip-off (2000), lesions and possession of sharp instruments used as weapons (2000) and breach of the peace and public disturbances (2002).  
For the latest crime he was released on bail on March 9, 2003, and about 10 days later he committed the same offenses. For that reason he was condemned to three years in jail, but the term was later extended due to his aggressive behavior in prison with his inmates.
Source: ACN
---
Related News
---