Bravo Keeps Leadership in Cycling Tour
Submitted by: admin

02 / 13 / 2010
---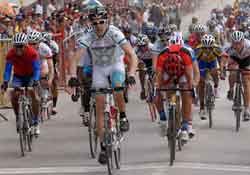 Venezuelan cyclist Wilmen Bravo is still wearing jersey winner in Cycling Tour to Cuba.
Bravo from Sumiglov Gobernacion de Merida team achieved 12 hours, 46 minutes and 39 seconds. He was four seconds ahead Colombian Jaime Castaneda, nine seconds ahead Cuban Yans Arias and 11 seconds ahead Raul Granjel.
The race began at 10:00 am in Bayamo and will cover a distance of 86 km to Holguin.
Cyclists, led by Bravo began the race seeking the first scoring gate, located 32 km from Cauto Cristo town.
Cuban Pedro Sibila from Universidad del Deporte team arrived first in Cauto Cristo followed by Venezuelan Polo Luis Masco and Cuban Adonis Cardoso.
After passing the imaginary finish, cyclists continued their race to Cacocun over 25 km. At that point seven cyclists spaced the rest out, one of them Cuban Yans Carlos Arias, who is leader in scoring gates with 22 points.
Race leaders overtook others for 3 minutes and 20 seconds, but were reached 5km before finish.
Cyclists entered by Los Libertadores avenue to arrive the finish. They were led by Canadian Keven Lacombe, who won the sprint with a time of 1:46:06 followed by Cuban Yoel Marino and Spanish Joaquin Sobrino.
Colombian Jaime Castaneda led the race after today   s phase with 35 points, followed by Venezuelan Miguel Ubeto with 34 and Cuban Damian Martinez with 29.
Tomorrow they will race the fifth phase of the tournament which covers 128 miles between Holguin city and Camaguey.
Source: PL
---
Related News
---