Mireya Luis is already a grandmother!
Submitted by: admin

02 / 09 / 2010
---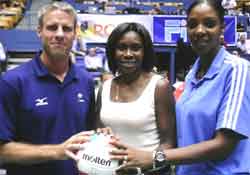 She is the best Cuban volleyball player of all times for many. Mireya Luis lives now a new facet of her life: it has nothing to do with sport, nor the delights of titles, or the disappointments of defeats.
 
Dario is the name of this new "trophy".  And thanks to him, at age 42, Mireya is already a grandmother! And since then the legendary attacker is always at the house of Ida, the girl so many reporters and fans saw in every game in the Sports City
Coliseum watching her mother crushing rivals.

 "It is unique what I am living", Mireya said when asked about the happiness caused by her first grandchild. And since it was impossible not to talk about volleyball, the current member of the Pan American Olympic Solidarity Commission, vice president
of the Cuban National Commission for Athletes and executive of the international relations policy of the national federation, showed confidence in the "resurrection" of our women volleyball team that gave so much glory to Cuba.
The Camaguey's native was the captain of the team when volleyball debuted in the Olympic Games in Tokyo 1964.

The "Olympic grandmother" participated in her first national championship at the age of 14 and was named the best attacker of the tournament, a foretaste of the fate of this woman to become a milestone in volleyball world for almost 20 years. 
A few days ago, one of the best Brazilian players, Fernanda Venturini, now married to the coach Bernardo Rezende, placed her at the head of a "dream team" along with Regla Torres, Irina Kirilova, Sheilla, Fabizona, Paula and Mari. "I thank her," said
Mireya, and recalled the unforgettable games against the South Americans and those of the Atlanta Olympics which were followed with passion by millions of fans.

Source: Cubasí

---
Related News
---