Better use of water resources in Ciego de Avila province
Submitted by: admin

01 / 25 / 2010
---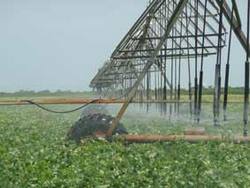 The use of central swivel electric machines brings about a better exploitation of water resources and contributes to increase crop yields without additional resources.
This technology, mainly used in the potato plantations, also benefits other crops (leguminous plants, cereals, vegetables and sweet potatoes) due to the characteristics of the irrigation system.
Emilio Varela, officer of the Territorial Delegation of the Ministry of Agriculture in the province reported that these devices spread the water in a circular area of over 400 meters, making possible the irrigation of any crop within this perimeter.
Emilio stated that while rotating, the machine supplies the same amount of water; however it can be regulated according to the standards for the different crops.
During the 2009 potato season, Ciego de Avila province used this technological break through in four agricultural enterprises and peasant cooperatives. The initiative has again been implemented, with good results in the bean harvests at Arnaldo Ramirez enterprise.
"These electric machines irrigate 1 905 ha of potatoes in the province. The goal is to achieve yields of 22 ton/ha", stated Rolando Macías, Deputy Delegate of the Ministry of Agriculture in the province.
With this innovative technology, 60 % of the energy (fuel) required by the old pumping system can be saved.
"Irrigation takes place during the hours of less power demand, thus contributing to the stability of the National Power System", said Macias.
Source: www.invasor.cu
---
Related News
---