Avilanian rural inhabitants with better phone services
Submitted by: admin

01 / 16 / 2010
---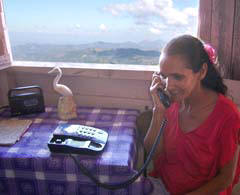 The updating of technology in the field of telecommunications  in Cuba during 2009,  allowed residents of rural settlements from Ciego de Ávila province to benefit from telephone services with better quality.
Ubaldo Pereira Benítez, director of the Cuban Telecommunications Company (ETECSA) in the territory, said that priority is given to communities in the countryside, since the main towns and cities of every municipality were connected to the telephone grid by means of fibre optics.
"This system provides more connection capacity and security before natural phenomena, since its conduits are laid underground and prove more resistant", Pereira Benítez expressed.
"Among the towns benefited with the improvements, either for connection changes or substitution of the analogical system for a digital one, are Miraflores, in the municipality of Bolivia; Máximo Gómez, in Chambas, as well as Orlando González and
Limones Palmero, in Majagua", he added.
Aslan Santana Vázquez, head of the Development Department of ETECSA in the province, informed that the renovation works done last year will ease the enlargement of capacities in both the state and the residential sectors.
Neudel Quinteros Matos, residing in Miraflores, said to AIN that the change is appreciated, because now communications with the rest of the Island are direct and faster.
Investments this year will be aimed at the amplification of several digital power stations, the fibre optics connections with the keys of Jardines del Rey, (King's gardens) the famous tourist destination, and to the equipment of three integrated cabinets to install over 2 000 telephones in houses.
According to data published by the National Statistics Office, in 2008 Cuba attained 95,6 percent of phone digitalization, but this figure does not meet the needs of the population but what has been achieved is a sample of considerable advance.
Source: www.invasor.cu
---
Related News
---