Edible Mushrooms produced in Santiago de Cuba province
Submitted by: admin

01 / 15 / 2010
---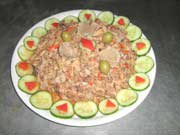 The Research Centre for Industrial Biotechnology (CEBI) from the Faculty of Natural Sciences of the Universidad de Oriente, in Santiago de Cuba, has been researching and producing edible mushrooms for fifteen years.

Founder of the project, Rosa Catalina Bermudez, who is in charge of the production of the Pleurotus variety, said they have achieved wonderful results harvesting these mushrooms in natural areas of the Sierra Maestra mountains.

CEBI and the Cuban Institute for the Research of Sugar Cane Derivates are the only two scientific centres currently producing this variety of mushroom in Cuba.

Besides sugar cane bagasse and straw, other substratum have been tried in Santiago de Cuba area for harvesting the mushrooms, such as coffee pulp, a waste material largely generated by the coffee industry in this region.

Other suitable substances are cacao peels, coconuts outer shells, and sawdust. Mexican technology is being transferred here in order to improve the production of this exquisite dish.
Pleurotus mushrooms provide the body with many nutrients for they consist of 26.0-28.9 percent of crude protein; 42.8-52.6 of total carbohydrates, 7.2-20.7 of crude fibber, and 20.65 KJ/g of energetic value. Also, they are 79.3-81.8 percent digestible.

Its composition also includes iron, copper, potassium, calcium, magnesium, sodium; essential amino-acids like lysine sulphur amino acids and aromatic ones such as tyrosine and phenylalanine.

Mushrooms can be eaten fresh, preserved in brine or pickled. Due to their adaptability, use and low production costs, the Pleurotus variety is one of the most harvested for commercial use. They grow better in tropical and subtropical regions.

Source: www.sierramaestra.cu
---
Related News
---