House building continues its growing trend in Pinar del Río province
Submitted by: admin

12 / 28 / 2009
---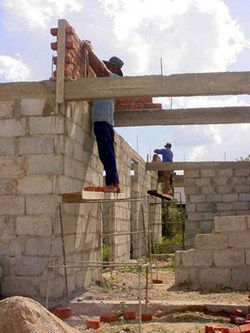 The Construction Transport Enterprise TRAYCO of Pinar del Río has finished a whole figure of 259 houses as part of the Mambi project, reported engineer Osmel Delgado, Insurance director of the entity.
The project started on December 2008, after the crossing of hurricanes Gustav and Ike through Pinar del Rio, and the construction program was arranged with resources left by the hurricanes which threw many trees away thus fell timber resources are widely used in rural areas.
The bathroom of the houses is made of cement. The kitchen is also made of a solid construction for the people to have two safe areas to shelter in case of strong winds.
Trayco executes the project in San Cristóbal, Bahía Honda, Candelaria, Los Palacios and Consolación del Sur municipalities, the latter with better results.
Relatives of people with houses damaged, along with builders and specialists are in charge of the construction works, and practice training.  Owners of houses damaged are paid to repair their facilities.
The company is now working in 80 houses and resources are there, although according to Osmel Delgado, lack of resources are based on tiles, skilled workers are needed but there is still a lack of this qualified labour force.
The project has continued its improvement and development, and houses turn out to be more comfortable with construction labour practice , even in many cases owners count with electricity for the first time thanks to the gathering of inhabitants that used to live in remote areas or at high risks mountain ranges.
Source: www.guerrillero.cu/
---
Related News
---