Guaguampiano a joint premiere by Frank Fernández and Los Muñequitos de Matanzas
Submitted by: admin

12 / 24 / 2009
---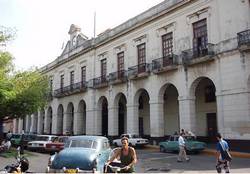 Renowned Cuban musician Frank Fernández and the famous Los Muñequitos de Matanzas dance group starred on Sunday in the world premiere of the piece Guaguampiano at the Sauto Theater.
The audience at this cultural center, declared a National Monument, vibrated with emotion while watching the video clip of the piece composed by Fernández, which is included in his soon-to-be-launched CD Canto de los abuelos, a mixture of the Cuban
ancestral music -Spanish and African-, the components of Cuban nationality.
The prominent pianist and the Afro-Cuban ensemble performed a part of the piece, which offers live improvisations of both the piano and the percussion instruments, and the chants characteristic of Los Muñequitos.
Diosdado Ramos, director of the group from Matanzas province, told ACN of the pride Los Muñequitos take in sharing their music with one of Cuba's greatest pianists, and said jokingly that they carried out only two rehearsals for the recording, since the rest "came out spontaneously."
Frank Fernández highlighted the modesty of the group, which he described as one of the world's best rumba performers, adding that this piece is the last one for the album and that he was happy to see the faces of the Matanzas residents, since the public of this city, the cradle of the rumba, approved their interpretation.
'Canto de los Abuelos' includes a bulería (traditional Andalusian song); the full suite of Zapateo por derecho; Contradanza, and other pieces, in which several instruments and
Source: ACN
---
Related News
---