Holguin Already Has its Shaolin Chamber
Submitted by: admin

12 / 23 / 2009
---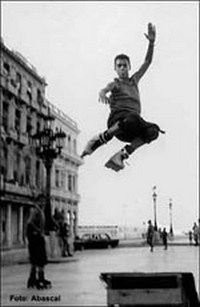 The Kung Fu, a martial art of Chinese origin, escaped from the secret walls of the Shaolin temple to expand all across the world in many styles and different schools.
One of them already found shelter in Buenaventura, the head town of the municipality of Calixto Garcia, thus becoming the fourth in Cuba and the only one in Holguin province.
The martial art, known as Choy Li Fut, which is a fusion of styles from northern and southern China, settled in Buenaventura, some 38 kilometres away from Holguin, the capital city of the province.
In the westernmost municipality in Holguin province an enthusiastic group of youths guided by monitor Yunieski Mora Leyva has the mission of preserving and disclosing this discipline.
"Since I was a boy I was fond of martial arts, but I couldn't practice them because there was no academy for me to meet my dream, and it was until today that I, thanks to my post as an computer manager that I could search in several Cuban web pages about the traditional martial arts, later I got in touch with the man in charge of Choy Li Fut in Cuba, Erick Roger Villavicencio, who invited me to attend a course in Havana, which indeed was fruitful indeed, since then on everything began to flow marvellously," Mora Leyva said.
The Choy Li Fut was founded by the legendary Chan Heung, and its name honours its three more important mentors: Choy Fook, Li Yau San and Chan Yeun Wu.
It is still early to write about successes in a sport that like the martial arts needs years of perseverance and rigor, however, a passionate light shines in the eyes of the young professor when he speaks of the discipline's main goals.
"Choy Li Fut's goal is to achieve people's health, in order for him or her to reach a suitable emotional balance, or say, to prepare the body physically and spiritually," Mora said.
Choy Li Fut is characterized by circular movements in attacking and defending what brings much benefit because the circular swinging fists are difficult to block, besides by defending you in combats one is paving the way to discipline the body and the spirit, and also giving in impulse.
"I am very happy with the opening of this school, I've always been a fan to martial arts and now being 16 years I find a way to dedicate myself with passion to one of these disciplines. See that training in barely two months I have broadly improved force very much and, mainly, I have gained in security for myself," pupil Leonardo Rodriguez highlights.
Together with Leonardo, other 20 adolescents and youths in Buenaventura have taken possession of the basketball court at the junior high school to make the afternoons on Monday, Wednesday and Friday, a beautiful and harmonious ritual ceremony that is also fully backed by parents and family members of the discipline's followers.
"When Adrian told us on registration in that area, we thought that would be a teenager's fit, but the truth is that today we can see how everything has incredibly changed in hardly a few weeks," said Fernando Caballero Morales, the father of another of the students and adds that "the boy is very motivated, more concerned in school, more disciplined, and he is more responsible.
There is a long road to go for these youths in Buenaventura, followers of the Choy Li Fut and founders of the first school of the discipline in the Cuban eastern province of Holguin.
The road will not be easy; they know it, because according to the legend "when the Dragon and the Tiger meet, the result are always uncertain. The pupil should be fully on the alert and careful of the situation. He /she should never abandon the oath and must continue defending the techniques of Shaolin in such a way that the tradition stays alive."
Good timing Yunieski's strength has made his dreams come true, with the aid of professors Erick Roger and Alejandro Ricardo Alonso, because Holguin has already its School of Choy Li Fut, where three words have become an anthem: Will, Perseverance and Fidelity.
Source: www.radioangulo.cu/
---
Related News
---