Cuba: pilgrimage worshipped San Lázaro deist on December 17th
Submitted by: admin

12 / 18 / 2009
---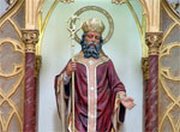 Thousands of Cubans paid homage on Thursday to a Catholic Saint who doubles as a powerful deity in the Afro-Cuban Santeria faith.
The Saint Lazarus pilgrimage is one of the most important religious events on the communist-run island, melding Afro-Cuban faiths with Roman Catholic beliefs.
Devotees of Saint Lazarus, who traditionally wear sackcloth and purple clothing as symbols of repentance, flock to the shrine at a church near the village of El Rincon in the countryside just outside Havana.
Saint Lazarus is associated with helping the sick, and many of the pilgrims go to ask the saint to cure relatives' ailments.  
Others make long, hard journeys barefoot or haul themselves along the ground on their hands and knees.
Experts explain this fusion of Santeria and Christian figures by saying that African slaves in Cuba originally pretended to worship the Catholic saints of their Spanish masters while secretly paying homage to their own deities.
December 17 is the day to pay homage to Saint Lazarus, but increasing numbers of devotees are visiting the shrine at other times of the year, said Ana Perez Gimenez, who has been tending the church donations box for eight years.
"There are fewer people who come on their knees but people keep on coming," she said. "Sometimes the Mass is so full you can't get in. People's faith has really grown."
Source: Yahoo
---
Related News
---