HostelBookers not bound to US travel ban to Cuba
Submitted by: admin

12 / 10 / 2009
---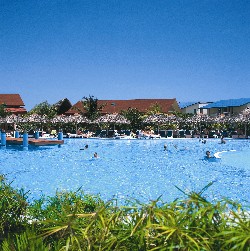 HostelBookers still travel to Cuba, Myanmar and Syria
US foreign policy has banned competitors of HostelBookers from offering
accommodation in Cuba, Myanmar (Burma) or Syria.
As a British-owned company, HostelBookers are not bound by this travel
ban <http://blog.hostelbookers.com/travel/travel-ban-usa/>, and continue
to offer the best in budget accommodation in these destinations.
Whilst traveling to these countries can present an ethical dilemma, they
still have wide appeal for travelers. HostelBookers are answering this
demand for a more unique travel experience with the best hostels in each
destination.
"Cuba"
Cuba is utterly unique. Travellers staying in Cuba Hostels
<http://www.hostelbookers.com/hostels/cuba/> can discover a tropical
island of palm-fringed beaches and water-sports, bars sultry with salsa
beats, and crumbling colonial buildings.
The capital Havana is not to be missed, with streets of brightly
coloured American Buick cars, psychedelic Che Guevara murals and cafes
of old men, playing cards and smoking Cuban cigars.
"Syria"
Like much of the Middle East, Syria is a far safer and more cosmopolitan
country than people realise.
In this vibrant country, ancient history mingles with everyday life -
locals picnic beside ruined monuments, and the streets are a jumble of
donkeys, bicycles and 1960s American taxis. Each city boasts citadels,
relaxing hamman baths and ancient souk markets.
Syria is full of Unesco-listed sites, from the ancient city of Damascus
(one of the oldest inhabited cities in the world) to the Greek ruins of
Palmyra in a desert oasis. There are Damascus hostels
<http://www.hostelbookers.com/hostels/syria/damascus/>, Aleppo and
Palmyra, making backpacking around the country easy.
"Myanmar/Burma"
Travelling to Burma is an ethical decision for some travellers. Thanks
to a tyrannical political regime, the country has been boycotted by the
international community, and many backpackers wish to follow suit. But
this land really is a world apart from the rest of South-East Asia, with
streets of British colonial houses and steam-boats sailing down rivers.
The country boasts many mystical sights – from Bagan's 4000 Buddhist
temples resting on a river shore, to floating villages and peaceful
monasteries at Inle Lake. Travellers can stay in Yangon hostels
<http://www.hostelbookers.com/hostels/myanmar/yangon/>, a former capital
with a major international airport and the Shwedagon Pagoda, the most
important religious site in the country.
-END-
*For further information please contact: *Daniel on +44 (0)20 7406 1805
or email:
[email protected]
<mailto:
[email protected]
>
    NOTE TO EDITORS
/About HostelBookers.com: Great Hostels. Free Booking. No Worries.
HostelBookers.com – launched in March 2004 – is a leading UK-based
budget accommodation website. It offers a range of budget accommodation
including /*/youth hostels/* <http://www.hostelbookers.com/>/, hotels,
B&Bs and apartments in over 3,000 destinations worldwide./
/In November 2008 HostelBookers.com also received the UK's Best Youth
Product award at the British Youth Travel Awards (BYTA) run by BETA
(British Educational Travel Association). The awards, are designed to
provide a platform to celebrate and reward high achievers, gain
recognition, and raise the profile of the work and individual successes
of organisations engaged in youth, student and educational travel, to
from and within the UK. HostelBookers.com's properties are reviewed and
rated by customers and it remains the only major company in its sector
to offer its services with no booking fees. HostelBookers.com also
provides a range of //free travel guides/
<http://www.hostelbookers.com/guide/>/, travel news and worldwide events
information./
/If you would like to be a Hostelbookers partner, you can do so by
joining our affiliate program directly by //emailing HostelBookers/
<mailto:
[email protected]
>/ or through the TradeDoubler and
AffiliateFuture networks./
---
Related News
---