Welcome to the New Years Teachers Introduction to Cuba Tour
Submitted by: admin

12 / 04 / 2009
---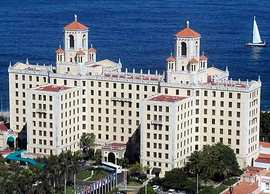 This tour is the most comprehensive examination of Cuba's remarkable education system available. At the same time it's a rare occasion to imbibe in Latin culture and art, and experience island history, social and ecological achievements first hand.
Perhaps the most rewarding aspect of the program for many participants is the chance to make enduring friends with their Cuban counterparts.
PROGRAM OVERVIEW
TRIP ACCOMMODATIONS
Havana's Hotel Nacional     
You stay at the opulent Hotel Nacional where a pantheon of dignitaries and celebrities has lodged since 1930.
Hotel Los Jazmines     
Picturesque Hotel Resort Los Jazmines positioned atop a mogote (hill) in breathtaking Viñales Valley with breakfast and dinner included.
CITIES AND SITES VISITS
    Havana City and Havana Province
    Viñales Valley and Pinar del Río
    Las Terrazas eco-community
TOUR HIGHLIGHTS
Learn Cuban dance with private tutors, enjoy great music, meet with urban planners, visit schools and teachers' union leaders, meet university professors and artists. Explore Afrocuban culture, visit farms and jungles, THERE ARE NO poisonous
plants, bugs or animals in Cuba. Tropical diseases are nearly vanquished. No vaccinations are required to visit the island.
Visitors don't return home with mysterious maladies and make new friends in Cuba and amongst tour participants.
Travel for change Cuba Education Tours is a Vancouver Canada based organization dedicated to green, ethical travel that benefits Cubans and our guests.
Cuban airlines     
Getting to Cuba Call 1-877-687-3817 toll free or email us. We can help.
Teachers Introduction to Cuba Tours happen three times a year. Join us!
    Spring Break 2010 Teachers Tour
    Summer 2010 Teachers Tour
    New Years 2010-11 Teachers Tour
source: www.cubaedutours.net/
---
Related News
---