Singapore and Cuba with reinforced bilateral ties
Submitted by: admin

12 / 02 / 2009
---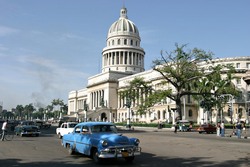 The Asian coutry is exploring new markets in Latin America Singapore and Cuba have pledged to enhance bilateral cooperation following Singapore Prime Minister Lee Hsien Loong's two-day visit to the island country in the Caribbean.
Mr Lee's last visit to Cuba was some 30 years ago, as a student under the Kennedy School's Mason Programme. This time, he returned to Havana as part of Singapore's ongoing efforts to explore new markets in Latin America.
During his visit, he met several Cuban leaders, including President Raul Castro, who shared his perspective of the Caribbean.
Mr Lee described relations between both countries as friendly.
Singapore-Cuba trade links amount to just S$5 million a year due largely to trade sanctions imposed by the US.
"The embargo comes up from time to time in the UN for a vote and we have voted against the embargo in the UN because we do not consider it the right thing to do," said Mr Lee.
PM Lee noted that although Cuba has picked itself up after the fall of the Soviet Union, the country still has considerable challenges ahead.
"This government has decided they want to persist in their model of the economy," Mr Lee explained. "They don't want to follow the Chinese or the Vietnamese. "They are looking to boost their agricultural production - to boost rice production particularly, because rice is one of their staple foods - and try to become more self sufficient and save on current exchange."
Mr Lee added that the Cubans are "very serious-minded, talented people", and that they will find a way to make a living for themselves.
Mr Castro has requested for PSA to be involved in Cuba's project to move its port from Havana to Mariel.
PM Lee said: "The Cubans are moving their port from Havana, the old city... and build a bigger port at Marial. I think they would like PSA to be involved in the project, so this is something we would look at."
The Cuban president has also accepted an invitation from Mr Lee to visit Singapore.
Although there are no strong economic links between Singapore and Cuba, both sides have quite an established partnership in science and technology, such as the area of dengue research.
Singapore's National Environment Agency is collaborating with the Institute of Tropical Medicine "Pedro Kouri" on research into vector control and monitoring.
Mr Lee also visited a medical centre and two research institutes to explore other potential areas of collaboration.
Source: www.channelnewsasia.com
---
Related News
---