Pinar del Río more than a valley
Submitted by: admin

12 / 01 / 2009
---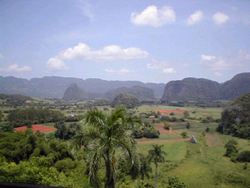 Its architecture was made of natural materials like guano, timber and yagua.     
Since the beginnings of the 17th century, in the banks of Guama River, in the westernmost part of Cuba, a small village began to develop according to the needs of its inhabitants and the increase of tobacco production.
That way an union of artisans and builders started to develop skills to design and build houses for the inhabitants of the city is already a tradition here.
The city licence was granted to the village on October 14, 1867, by royal decree of Queen Isabel II of Spain.
In the late 18th century and during the first half of the 19th, the buildings in towns, ranches and piers disappeared without leaving any trace. For instance, nowadays there are not remains of Pinar del Rio Arms Square, or the facilities that
surrounded it like the church, the garrison, the government hall and the jail.
The 19th century marked a real revolution of architecture in these lands. Artisans, builders and architects undertake the responsibility of building constructions that are still there today.
The penitentiary center from 1859, now Francisco Donatien cigar factory, treasures a complete structure with a porch supported by big arched columns, and represents one of the main examples of the Neoclassic style in Pinar del Rio.
Other significant constructions were the city hall, the cathedral, the farmer's building of 1890, Ricardo Hotel, the provincial Government (nowadays History Museum) and Milanes Theater.
Years later, during the first decades of the Neo-colonial Republic, important constructions appeared, giving a better image to Pinar del Rio city and becoming heritage sites for the locals.
Undoubtedly, the main road and the bridge over Guama River (1930) are still elements related to the city and the entire region of Vueltabajo.
Ever since 1940, the constructions in Pinar del Rio increased remarkably as part of the investments destined to that sector.
During this time Rogelio Perez Cubilla outstands among a group of engineers, since he executed several works that made this period to be different given the way in which harmonizes the milieu, the styles used and the motifs in facades.
The parks built during the Republic and the revolutionary period, especially in the city of Pinar del Rio, are also part of the works made by architects from Pinar del Río.
Source:www.guerrillero.cu
---
Related News
---