Casa de las Américas expects young artists to feel like home
Submitted by: admin

11 / 28 / 2009
---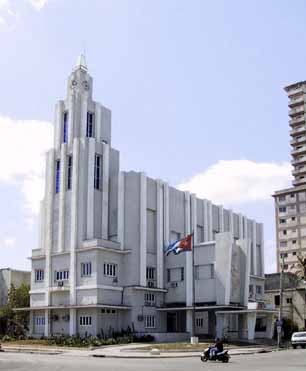 The taken house experiences this situation once more when the sons of the previous generations made Casa de las Américas what it is today.
Creators of more than 10 countries will be the protagonists of Casa Tomada or the 2nd Meeting of Young Artists and Writers of Latin America and the Caribbean, agreed by Casa de las Americas on December 14th-18th.
"We liked the house because it was spacious and kept the old memories of our great-grandparents, paternal grandfather, our parents and all children." Excerpt from the story "Casa Tomada" by Julio Cortazar.
According to event organizers, the idea is that once young artists and intellectuals can be here—and all the people that come to Casa these days—they should start creating and rethinking the current context, from the perspectives of young authors,
their legitimacy, the new poetics and cultural movements, media and identity.
Casa Tomada is the culmination of the 50th anniversary of Casa de las Americas and nothing better than a space dedicated to young artists as future action and faith in life to celebrate it. As Roberto Fernandez Retamar defined with "the bicycle
philosophy," young artists are well prepared to continue the constant cycling of the institution.
La Casa will be then the opportunity for dialogue and creation as it has been the dream of its founder Haydee Santamaria: a platform to dream and do in our continent.
Many young Latin American artists are not known, so Casa will become, as always, a bridge between them, a place to exchange and feed back.
Although 26 years have elapsed from the first meeting of young artists, there is continuity between the two: to exchange ideas, to create, and to debate about the issues of concern to the intellectuals and society in general.
If artists born after the 1950s came in 1983, Juan Jose Dalton, Jorge Boccanera, Marilyn Bobes, Arturo Arango, Efraín Amador, Senel Paz, Raul Vallejo, and Arturo Arias...creators from 1967 to 1980s will come this time.
Arts shows, concerts, and literary debates of the event bear the stamp of the hybrid, such a rich mix that characterizes Latin American.
The meeting Casa Tomada is the antithesis of Cortazar's homonym tale. Unlike the two brothers of the story—stuck to the past and then resigned to lose it—our Casa de las Americas trusts in the exploration, the things to be discovered. And the purpose
is not even to figure out the future but continue to raise questions about where we are going to. It makes the trip much more interesting.
Source: Cubasí
---
Related News
---