The Island of Music is Cuba
Submitted by: admin

11 / 26 / 2009
---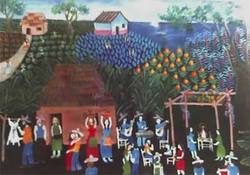 Havana new sounds with magics, Cuban music is from the heart, impressions given by Gilles Peterson.

"It's soul, man!" pronounces Gilles Peterson, his face lighting up as he takes a sip into his chilled mojito. "Cuban music is from the heart, it's free, there are less rules somehow," the DJ extraordinaire tells CNN about the endless energy of the island's music.

It's been 13 years since Ry Cooder and a group of outstanding elderly musicians took the world by storm with "Buena Vista Social Club," a global album hit which helped put Cuba on the world music scene.

Now, stepping from the shadow of Buena Vista, a generation of ambitious young Cubans is daringly crossing diverse musical territories, creating a fresh sound which fuses traditional Latin rhythms with hip hop and funk grooves.

"Some years ago a few American rappers like Talib Kweli, Erykah Badu and the Roots went to Cuba and sowed the seeds for the underground hip hop scene and now it's alive," says Peterson, whose latest project showcases Cuba's contemporary musical
effervescence -- from latin, afro jazz and fusion to hip hop, funk, reggaeton and pop.
Cuban music is from the heart, it's free, there are less rules somehow in "Havana Cultura," Peterson introduces to the world the likes of honey-voiced Danay -- "an absolutely superstar" according to the influential DJ -- and Ogguere, an energetic hip hop duo which blends original Cuban rhythms with funk, rumba and rap.

These 21st-century Cuban musicians can delve into traditional music forms with the same ease as they burst into vigorous rap lines. They make up for the lack of access in technological means with an unsurpassed passion and determination to
communicate their art.

"The life of an artist in Cuba is a sacrifice," Danay told CNN. "We have to use a lot of raw material and recycle it again and again because many times the right conditions don't exist.

"There are many talented street artists who have to walk a much longer road in order to write music and express themselves.

But you can do it if you work hard and if there's love for the art."

In tune with Havana's unique spirit, this fledging music movement works best when performed live. On stage, the energy of the grooves and the breadth of fresh talent stimulates all senses.

"When we perform our music we are passionate and sentimental," says Ogguere's Edrey after a ferocious live performance in east London. "Cuban art is conscious, it's hard, beautiful and lively. There is a lot of energy and feeling."

A lack of funds and equipment cannot contain the scene's enthusiasm. As the movement develops the musicians are becoming more ambitious.

"We want people to identify themselves with what we do -- regardless of whether is salsa, hip hop or funky, all that mix of rhythms is our way of making people enjoy what we do. We want them to learn a new philosophy of life based on giving love,
feeling happy and celebrate," says Ulises, also of Ogguere.

Influenced by the likes of James Brown, Fela Kuti and the Roots, Ogguere say they rely on their friends across the world to get their hands on foreign music since Cuban radio would play mainly salsa and reggaeton.

"These young Cuban musicians need help. Most of them don't have Internet and this is quite radical, but they survive because they are so hungry for information," says Peterson.

"In Europe people are a little bit more lazy, a bit more cynical, but these were the most disciplined musicians I've ever worked with, they wanted to take their opportunity."

Source: CNN.com
---
Related News
---