US Democrat senator questions funds used for on Radio and TV Marti
Submitted by: admin

11 / 26 / 2009
---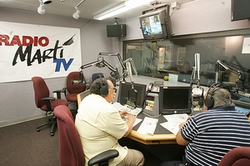 US Senator Russ Feingold, a Democrat from Wisconsin, has said his first target to question the North American Government's waste of funds is Radio and TV Marti, whose news and program broadcasts are meant for Cuba. began in the Reagan-era.     
Radio Marti began its broadcasts on May 20, 1985, in a clear breach of all
international regulations regarding radio-electric transmissions. Meanwhile, TV Marti began transmitting on March 27, 1990, during the administration of George Bush Sr.
According to a note published today by The New York Times, reproduced by Cubadebate website, Senator Russ Feingold on Monday launched a new "Spotlight on Spending" that recalled a long-running campaign against perceived government waste by an earlier Democrat from Wisconsin, the late Sen. William Proxmire of "Golden Fleece" fame.
According to Feingold's press office the US Government spends "$300 million for a broadcast to Cuba that nobody tunes in to."
The New York Times adds that "anti-Castro Florida Republicans in Congress zealously guard the appropriations. But Mr. Feingold's press release noted that Radio and TV Marti reportedly have small audiences at best, partly because of Cuban
government jamming efforts."
For years, from the mid-1970s until 1988, when Mr. Proxmire retired from the Senate, he became nationally famous for his regular "Golden Fleece Award" to some unlucky programs.
Source: Cuban News Agency
---
Related News
---