Cuban Pitcher Norge Vera, back to action?
Submitted by: admin

11 / 23 / 2009
---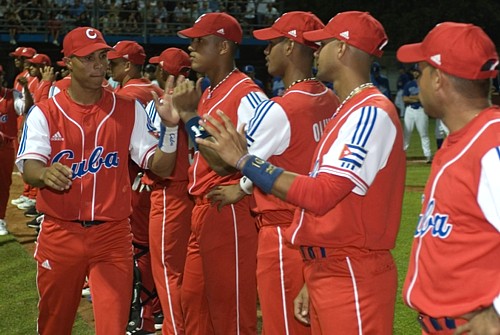 After a speedy recovery, Cuban pitcher Norge Luis Vera was released from the hospital on Saturday and will return soon to his training for the Base Ball National Series.

In a press conference at the Hermanos Ameijeiras Hospital in Havana, Vera warmly thanked the doctors for the medical care he received during his recovery process and said he was confident of his return to the game.

I think, he said, that when the doctors allow me, I will train again and I will try to help my squad (Santiago de Cuba) at the end of the season.

Ten days ago, in a brawl in his hometown, Siboney, in eastern Santiago de Cuba province, Vera was hit and suffered multiple lesions in his face, which sent him in serious conditions to the hospital for surgery.

Raymundo Luis Hernández Pérez, chief surgeon of the team in charge of doing the surgery, expressed his astonishment for the quick recovery of the patient, but he didn't give a return to play date.

His recovery has been great. It went beyond all our expectations. All the fractures could be reduced and through the radiological test we saw that all the bones are back in their place, he said.

However, and though after this explanation it may look as if Vera could pitch, it is not like that, due to the fact that the muscle action a high performance athlete does will undoubtedly bring contractions to the muscles close to the bone area affected, Doctor Hernandez added.

To speed up his return to the game "could cause a relapse; a hit or any pressure over this area could alter the bones right position, therefore we suggest him not to start training immediately"

Doctor Hernandez guaranteed the Cuban baseball fans that the country's best pitcher nowadays will fully recovered in a brief term, Vera has a good future"

Vera at the end of the conference acknowledged that his intentions were to retire after this championship, but he added he will think it over.

"As a matter of fact, this one was to be my last season, we will see when the season is over what I will decide", concluded Vera.

The Cuban pitcher Norge Vera is followed by the great Cuban baseball audience.
Source: ACN
---
Related News
---