International JoJazz Festival 2009
Submitted by: admin

11 / 23 / 2009
---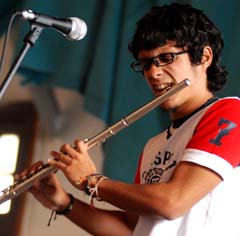 The 12th International Festival of young jazz musicians JoJazz 2009 starts in Havana this week.
Twenty-nine musicians will compete in the Festival dedicated to the Cuban musician José Miguel Crego (El Greco). Three galas will be celebrated, one of them to commemorate his 35 years of artistic life.
The vibraphone will be included In the competition. Among the eleven instruments to be played, there are flute, piano, guitar, trombone, clarinet, trumpet, sax, double bass and drums.
lsela Vistel, director of the National Center of Folk Music said during a press release the composition jury will evaluate 19 competitors and it is presided by Alexis Bosch. The interpretation jury is headed by Orlando Sanchez.
The event program includes workshops on harmony, improvisation and trumpet in charge of Yassek Manzano and Bobby Carcasés.
Performances of the Norwegian bands Pitsj and Listen and the Cuban Orlando Valle (Maraca) are among the highlights.
Venues of the event will be the theaters Amadeo Roldan and Mella and the club "La zorra y el cuervo" (The Fox and the Crow).
The closing evening of the 2009 Jo Jazz Festival, will be celebrated on November 29 and will include a special performance of musicians awarded in 2008, and the participants for this year.
The festival is promoted by the Cuban Music Institute and the National Center of Folk Music.
Source: Cubasi.cu
---
Related News
---