Nassau route back to the Bahamas
Submitted by: admin

11 / 22 / 2009
---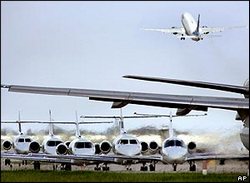 Minister of Tourism & Aviation Vincent Vanderpool-Wallace promised to use the latest technology to draw visitors as he welcomed Condor Airlines back to the Bahamas on Friday, after a 20-year absence.
Condor returned to the Bahamas with a weekly "triangular" flight that brings the 270-seat aircraft from Frankfurt, Germany to Cuba and Nassau.
As new flights come to the Bahamas, the Ministry of Tourism will be boosting interest and awareness of the country through electronic means, Minister Vanderpool-Wallace said in an inaugural flight ceremony at Lynden Pindling International.
"You will see us using the best electronic tools, particularly the internet to convey the broad variety that the Bahamas is," he said.
Minister Vanderpool-Wallace said visitors must be made aware that the Bahamas is a region, just as the Caribbean is a region.
 Bahamians must also be aware that is important to make visitors feel welcome, he said.
Passengers are able to book Condor to the Bahamas from as low as 400 Euros to 999 Euros.
"It is quite affordable from Europe to come over here," said Heiner Wilkens, chairman of Condor's Supervisory Board.  "It's crisis time and people still say ok, they want to travel.  It is also a sign in Europe and in Germany that Condor opens a new route in times of crisis because we have confidence in flying."
Condor will arrive in Nassau on Fridays, returning to Germany on Saturdays.
Source: www.caribbeanpressreleases.com/
---
Related News
---