Polo Montañez's music remains at Sierra del Rosario
Submitted by: admin

11 / 21 / 2009
---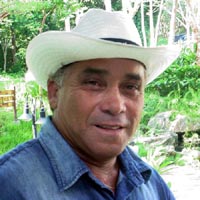 Sierra del Rosario is a biosphere reserve where Polo used to live and compose his famous songs.
Seven years after the death of the singer Polo Montañez, about a 100 people visit every day the museum – house that carries his name, in the Las Terrazas community, of the Pinar del Rio, Sierra del Rosario.
According to the specialists of the center, the number of visitors has remained the same since the death of the popular artist, the 26 of November 2002, victim of a car accident, just at the height of his short, but without precedent professional career.
The museum exhibits the Gold and Platinum records won by the self taught singer, enough awards to make him in an indisputable memory of the popular Cuban music, his very first record titled Guajiro Natural, made him famus form the very beginning.
Rosa María Pérez, neighbor of the town at this mountain area, which is a biosphere reserve, declared to AIN, she is very proud of the exhibition place, where "the emblematic white hat of Polo and his guitar immortalize the presence of the artist".
Other personal objects and distinctions of the also Son of Colombia, revive the memory of Fernando Borrego Linares, the real name of the icon of the Pinar del Rio countryside, who died at the age of 47 years, when he had only recorded two Cd´s.
A concert dedicated to the Guajiro Natural with Cuban figures, was held this week at the Milanes Theatre with great public attendance, while on November 21, a cncert will be held at the CTC hall of the Cuban capital, another tribute to the singer, who universalized the typical Cuban country parties.
"Polo's emblematic white hat and his guitar immortalize the presence of the artist, in this western region of Cuba."
Source: AIN and Cubarte
---
Related News
---