U.S.-Cuba friendly ties in softball
Submitted by: admin

11 / 21 / 2009
---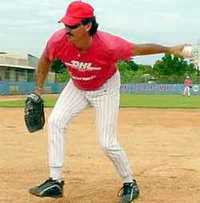 Teams of older U.S. and Cuban softball players ended a "friendship" tournament
Cuban shortstop Aurelio "Yeyo" Torres and Jim Kurland of the U.S. (L) greet each other after their series of games, which lasted five days, in Havana November 20, 2009.
They said who won or lost was less important than the fact that for five days in Havana, Americans and Cubans played a game they both loved and in the process found they were not enemies as they had long been led to believe.
"Now I know a lot of people in Cuba. They don't have horns," said catcher Alan Bresnick, a 71-year-old former corporate executive from Boston.
"It's important that we showed we can co-exist. It has been 50 years of bad relations (between the United States and Cuba) and maybe it's time to reconsider," he said on a sunny ball field at Havana's Ciudad Deportiva, or Sports City.
"This is the most beautiful thing you will see. It's like we're brothers," said Cuban shortstop Aurelio "Yeyo" Torres, 70, as his American friends draped their arms around his shoulders. "I just hope this can be continued."
The exercise in softball diplomacy was a joint effort between the Eastern Massachusetts Senior Softball Association and the Cuban Softball Federation. All the players were over 55, and on Friday, the teams were made up of players in their 60s and 70s.
Instead of U.S.A versus Cuba, they mixed players from both countries and swapped jerseys in a final show of unity.
FRIENDLY INTENSITY
The United States and Cuba have been at odds since a 1959 revolution that transformed Cuba into a communist state just 90 miles (145 km) from the Florida Keys.
Through the years, there have been various attempts at using sports to improve U.S.-Cuba relations, the most famous being exhibition baseball games between the Baltimore Orioles and the Cuban national team in Havana and Baltimore in 1999.
Tensions increased after George W. Bush won the presidency in 2000. But his successor, President Barack Obama, has taken small steps to bridge the deep U.S.-Cuba divide by easing the 47-year-old U.S. trade embargo against the island and initiating talks on migration and bilateral postal service.
The embargo includes a general ban on travel to Cuba, but the U.S. government granted licenses for the U.S. softball players to make the trip.
Despite their ages, the players banged the ball around the field and ran the bases with as much abandon as they could muster.
They cheered each other on in English and Spanish while playing with a friendly intensity.
One player cursed in disgust as he hit into an easy out at second base. "Too anxious," he grumbled.
"I would hope this can help improve things. It's tiny, but every little bit helps," said Jesse Lipcon, a 66-year-old former computer salesman. "Sometimes it takes one step to start a long journey."
When the game was over, the players lined up to shake hands and hug each other.
Source: Reuters
---
Related News
---