Cultural promoters with new proposals for Nuevitas communities
Submitted by: admin

11 / 20 / 2009
---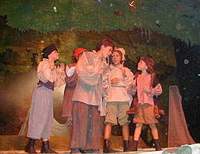 Different artistic projects are being made in the communities by the hands of the cultural promoters, as part of the proposals for the present month.
Girls and boys enjoy from new spaces dedicated to the healthy recreation and the cultural development with collective games, riddles and hidden treasures, among other suggestions widely accepted by the relatives as well.
In this exchange with the community the specialists of the Municipal Museum are involved in the cultural projects to be implemented on the local history and the museum's objects.
During the weekends the art instructors from the "José Martí" brigade participate in these new programs being held at the children's park, known as "The trunk of the memories."
During the games, the children are delighted with the narrations of stories and they learn how to interpret diverse characters, among them, the little mouse Pérez -well known character of the fiction story the "Cockroach Martina" and "Elpidio Valdez" an outstanding Cuban rebel story for children.  
Source: www.radionuevitas.co.cu/
---
Related News
---