Uruguay Sugar Mill with greatest investment of the decade
Submitted by: admin

11 / 19 / 2009
---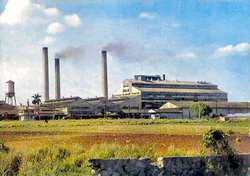 The Uruguay sugar mill is more than 85 percent of its program of reparation for the next harvest and workers are engaged in completing the largest investment program for the last ten years and its program is to keeep its grounding trend.
The assembly of a tank of honey with a capacity of 10 thousand tons is counted as the largest construction project of the company, however, it is expected to have it finished testing during the second decade of December. These repairs are vital for sugar harvest of the mill, therefore all molasses should be deposited and processed in the industry.
According to the engineer, Osvaldo Leon, head of the facility, some minor works are still in process such as the lack of the roof since some resources are still pending such as laminated beams.
Uruguay also works with emphasis on the implementation of platforms for direct fire across the cane trucks Brazilian cutting machines "Case", which and due to its high effectiveness do not need to go through distribution center, traditional sites  where the cane is prepared before grinding.
This will also make considerable savings of resources, primarily energy carriers, not having to move the raw material for downstream processes.
To raise the efficiency of the sugar mill, three new centrifuges are assembled and are working on improving automation system and implementation of a container for honey, urea and bagasse, for animal feeding, which will help the country reduce food
importations.
Uruguay was the best sugar mill of its kind during the the last harvest.
Source: www.radiosanctispiritus.cu
---
Related News
---