Handling Program for Camagüey City includes International Consultation
Submitted by: admin

11 / 17 / 2009
---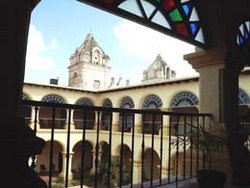 The international participation includes experts from Spain, Argentina and Cuba. The Office of the Historian of Camaguey City will submit the Handling Program to an international consultation.
He wants to know their critical judgment about the project that would be applied in the former village of Santa Maria del Puerto del Principe, which is inscribed in UNESCO's list of World Heritage Sites.
According to José Rodríguez Barreras, the Plan of Handling of the city of Camagüey, will be analyzed in a workshop that will take place in this city  on January 20-30, 2010; before "The Handling and Management of Cities", an event to be held on February 1-2, within the framework of the Week of the Culture Celebration.
Cuban and foreign scholars will deliver their conferences to boost a collective reflection on the proposal that attempts to return and preserve the legitimate hereditary values of the City of the Churches, as the 496 year-old city of Camagüey is
also known.
Taking these activities to the same core of the community is an intention of the municipal authorities, so they will be done in different places of this locality.
Camaguey City owns a colonial site full of narrow streets, squares and churches.
Source: Radio Cadena Agramonte
---
Related News
---