Softball diplomacy in Cuba
Submitted by: admin

11 / 17 / 2009
---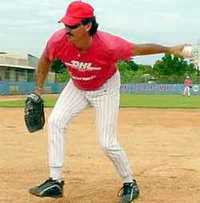 Havana's Caribbean sun was the witness of a softball game on Monday.
Softball has been a passion for Michael Eizenberg since he was a child, but the 63-year-old has never been as excited about a game as the one played Monday on a children's ball field at a faded sports complex under Havana's warm Caribbean sun.
Eizenberg is one 56 Americans — all at least 55 years old — who are in Cuba this week for friendly games of slow-pitch softball against their Cuban counterparts, part of an effort to use sports to bridge decades of official mistrust between America and its southern island neighbor.
The softball trip "is just a small step, but we hope that bit by bit, the program will help improve relations between Cuba and the United States," Eizenberg said as he warmed up for the first game. "Sometimes little things can turn into big things,
especially when big things are impossible."
Eizenberg plays third base on a team in the Eastern Massachusetts Senior Softball Association, and he is also president of the Education Travel Alliance Agency, which promotes educational and cultural trips abroad.
He said that when he told his fellow softball players that he had obtained permission from the U.S. government to bring 56 people to Cuba, his signup sheet was full in less than five minutes.
"Many others wanted to come," he told The Associated Press.
And the folksy senior softball games are by no means the only attempts at bat-and-ball cultural exchanges.
Baltimore Orioles owner Peter Angelos, who staged exhibition games with the Cuban national team in Havana and Baltimore a decade ago, has said he hopes to do so again next spring.
Cuba and America have not seen eye-to-eye on many things since Fidel Castro swept to power in 1959, but both countries are crazy about baseball, making it an ideal sport for outreach.
The American seniors split themselves into four teams, each of which was to play seven games around Havana against four teams of Cuban seniors organized by the Cuban Softball Federation.
For most of the visitors, it was their first trip to the communist island, which has been under U.S. embargo for 47 years.
U.S. law bars Americans from travel to Cuba unless they receive special licenses from the Treasury Department.
President Barack Obama has loosened some travel and financial restrictions, and the two countries have discussed re-establishing direct mail links. Still, Washington has made clear it has no intention of ending the embargo unless Cuba undertakes political, economic and social reform.
"I was surprised how friendly the Cubans were toward us," said Gary Siegel, 65. "They come up to us and talk without any animosity or aggressiveness."
Eizenberg seemed as happy as a little boy: "For me, softball is something I've experienced since I was a child," he said. "It's part of my soul."
Many of the softball players said they expected to find Cubans hostile to Americans, but that just the opposite was true.
Source: AP
---
Related News
---