A Book on Cuba banned at Miami School
Submitted by: admin

11 / 17 / 2009
---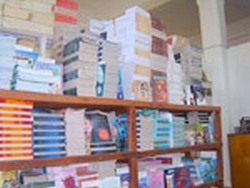 It is about a book entitled "Vamos a Cuba", it is a small book that sparked a big controversy over alleged censorship in Miami.
The Supreme Court Monday declined to hear a challenge to a Miami school board decision that removed a book about Cuba from public schools. The book was seen as presenting too cheery a view of life in Cuba.
School board members in Miami have won their battle to remove a children's book from the shelves of Miami-Dade school libraries because they said the book presented an inaccurate picture of life in Cuba.
On Monday, the US Supreme Court declined to take up the case of "Vamos a Cuba" – the little book that sparked a big controversy over alleged censorship in Miami.
The action lets stand a 2-1 ruling by the 11th US Circuit Court of Appeals that the school board's decision to remove the book was not censorship in violation of the First Amendment. Instead, the Atlanta-based appeals court said the school board was seeking to remove the book because it contained substantial factual inaccuracies.
The American Civil Liberties Union (ACLU) of Florida had appealed to the high court to overturn the 11th Circuit decision.
"It is a sad day for free speech in our great nation," said JoNel Newman, a lawyer with the ACLU of Florida. "This is a dangerous precedent, and a huge leap backwards in the battle against censorship. Aftershocks may be felt in public school libraries across the country."
A federal judge had earlier found that the school board had engaged in unconstitutional censorship. "School board members intended by their removal of the books to deny school children access to ideas or points-of-view with which the school officials disagreed," US District Judge Alan Gold said.
The judge issued an injunction blocking removal of the book. The appeals court ordered the injunction to be lifted, and it is this order that was upheld by the Supreme Court's action.
Those against a ban of "Vamos a Cuba" stressed that other books could be included on library shelves to offer a more rounded view of Cuba. They said removing and banning the book was censorship.
Source: www.csmonitor.com
---
Related News
---