Cuban pitcher in stable condition after blow to face
Submitted by: admin

11 / 10 / 2009
---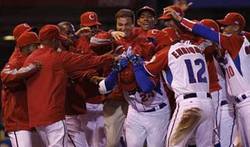 The pitcher who helped Cuba beat the Baltimore Orioles on U.S. soil a decade ago was in stable condition Monday after his face was crushed with a blunt object while trying to stop a fight.
Norge Luis Vera is "in delicate, stable condition and fully conscious," in the intensive care unit of Saturnino Lora hospital in Santiago, Cuba's second-largest city, according Radio Rebelde.
Vera plays for Santiago in Cuba's top baseball league.The government weekly newspaper Trabajadores reported Monday that the 38-year-old Vera tried to stop a fight he apparently wasn't involved in Sunday in Santiago and suffered "a violent blow to the face which provoked multiple fractures to the upper jaw," according to Zadys Navarro, one of the doctors treating the right-handed pitcher. She said the injuries are not life-threatening but that Vera will need reconstructive surgery to repair his face.
Official reports did not say where or exactly when the altercation occurred, or provide further details about the object used to hit Vera. It was unclear if any arrests were made and Cuba's Sports Ministry declined to comment.
Cuba's national team travelled to Baltimore for an exhibition series in May 1999 and beat the Orioles 12-6 after Vera relieved struggling starter Jose Contreras, who later defected and played for the New York Yankees and Chicago White Sox before joining the Colorado Rockies.
Against Baltimore, Vera allowed just three hits in seven scoreless innings, becoming an instant star in Cuba.Two months earlier, the teams had met in Havana with the Orioles winning 3-2 in 11 innings.
Vera has yet to start a game for Santiago this season, which began Nov. 1. But in 14 seasons, he has a 152-57 record and a career ERA of 2.61.
Vera won a gold medal with Cuba at the 2004 Athens Olympics, and took silver with the team at the 2000 Sydney Games and last year in Beijing. He served as a starter for Cuba in this season's World Baseball Classic and earned victories over South
Africa and Mexico.
Source: Canadian press
---
Related News
---