If Ban Lifted, Cuba Can Service U.S. Tourists
Submitted by: admin

06 / 30 / 2009
---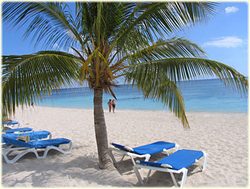 Cuba agrees with an estimate by the American Society of Travel Agents that 835,000 U.S. tourists a year, excluding cruise ships or Cuban-American family visitors, would come after an end to the travel ban, Figueras said. Cuba aims to build 30 new hotels with 10,000 rooms and 10 golf courses by 2014 without counting on changes in U.S. policy, he said.
"The Americans are welcome here," Figueras said in an interview yesterday in Havana's historic Hotel Nacional. "You have to be prepared for that, but you can't make your development plans depend on whether this happens."
U.S. lawmakers may take up scrapping the ban on travel to the communist island, which has been under a U.S. trade embargo for almost five decades. President Barack Obama in April loosened travel restrictions for Cuban-Americans visiting family members and lifted caps on money Cuban-Americans may send relatives there. He maintained the embargo.
The proposal has support to pass because Obama and the U.S. business community favor it, said Representative Rosa DeLauro, a Connecticut Democrat who co-sponsored the bill.
'Brand New Environment' "This issue is being discussed in an absolutely brand new environment, which is drawing support that it has lacked in the past," DeLauro said in an interview.
An end to the travel ban might erode other aspects of the embargo such as the ban on bank relations, which keeps travelers from using U.S. credit or debit cards in Cuba, Figueras said.
The number of passengers flying to Cuba from the U.S. doubled in May to about 20,000 from a year earlier after Obama announced changes to the rules applied to Cuban-Americans, Figueras said.
Still, the global economic crisis is cutting total tourism revenue as visitors spend less money and fewer days on the island, he said.
Revenue dropped 14 percent in the first quarter from the same period in 2008, while the number of visitors rose 2 percent to 809,937, according to the National Statistics Office.
The tourism sector represents 7 percent of gross domestic product, Figueras said. Revenue increased 11 percent to 1.67 billion convertible pesos ($1.8 billion) last year from 2008.
U.S. Companies "Every month an American company comes," Figueras said, citing talks with U.S. companies about hotel and golf course projects that might be possible should the embargo end.
"The Americans are missing out," said Juliette Sibson, a British tourist sipping frozen daiquiris at El Floridita, a bar in central Havana made famous by Ernest Hemingway. "Cuba is stunning. The history is amazing."
Claudia, 22, a Cuban tour guide who declined to give her last name, said she hoped the U.S. will build on Obama's recent changes for Cuban-Americans by allowing all Americans to visit.
"It would be good because it would bring more tourists," she said in Havana's Parque Central square. "I have family in Miami and they're coming more."
If U.S. travel restrictions were lifted, the number of American visitors would more than triple from 171,000 in 2005 to between 554,000 and 1.1 million, according to the U.S. International Trade Commission.
Canadian Tourists Last year, Canadians accounted for 818,246 of the 2.3 million tourists that visited the island, the Cuban statistics agency said.
The Dominican Republic, another Caribbean resort destination, housed 4.4 million tourists in about 60,000 hotel rooms in 2006, according to its tourism ministry Web site.
Many Americans who visit Cuba arrive on flights from Canada or Mexico and ask Cuban customs officials not to stamp their passports to avoid fines for violating the travel ban.
Cuba has about 48,000 hotel rooms, Figueras said. There are 15 hotels under joint venture contracts with foreign companies, and 49 hotels managed by international partners. The foreign companies include Sol Melia SA, the world's largest resort operator, and Accor SA, Europe's largest hotel company.
Eusebio Mujal-Leon, a professor of Cuban studies at Georgetown University, said the Cuban government might use visas to control the flow of U.S. tourists because it lacks sufficient hotel capacity to house them.
"They're not going to have massive entry," Mujal-Leon said. "They don't have the infrastructure for it."
Figueras said there were no plans to limit the number of Americans who can visit Cuba.
The number of American visitors in Cuba would increase slowly if the travel ban were lifted because it would take time for U.S. airlines to develop new routes and for travel agencies to develop tourist packages for the island, Figueras said.
"This isn't an American tsunami that would happen overnight," he said. "It takes time."
Source: Cuban News
---
Related News
---