Brazil stays lone undefeated team in World League
Submitted by: admin

06 / 24 / 2009
---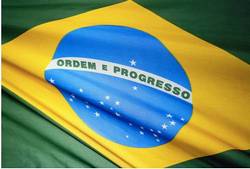 With previously unbeaten Russia and Cuba splitting their two-game series in Havana this weekend, Brazil emerged as the only undefeated team left in the 2009 FIVB World League after two rounds of play.
Brazil tops its pool with 11 points after a home sweep of Finland on the second weekend of competition, featuring 16 of the world's top men's national teams.
Pool A: The Netherlands solidified their position atop Pool A with two decisive straight-sets victories over China in Apeldoorn, winning Friday 26-24, 28-26, 25-20 and Sunday 25-18, 25-20, 25-15. The Dutch improved to 3-1 at the tournament while China dropped to the bottom of the pool at 1-3. Netherlands captain Jeroen Trommel said he was impressed by the rhythm he and his teammates have found. "We got into a flow and played like a machine. I think we were better in each aspect of the game. It was another step forward in our progress," he said.
The team the Netherlands beat in the opening match of the tournament, the United States, also won its two matches on the weekend to stay only two points behind the early pool leaders. The U.S. twice beat an out-of-sorts Italian side 3-1 in Italy, leaving the Azzurri in third place with just three points from its first four matches.
The defending Olympic and World League champions U.S. won their first encounter with Italy 21-25, 28-30, 25-21, 21-25 on Friday, and 19-25, 25-18, 22-25, 20-25 on Sunday. The U.S. will play its first home matches this weekend against China, while struggling Italy will play its first away matches against the Netherlands.
Pool B: France, South Korea, Argentina and Serbia once again finished their weekends with one win and one loss each. Korea tops the table due to a better points ratio after a solid 3-0 (25-22, 28-26, 25-22) victory over Serbia on Sunday following a 3-1 (25-14, 27-29, 18-25, 18-25) defeat to the Serbs a day earlier. Sunday's victory was the first ever for Korea over their European rivals.
Elsewhere, second-place France dropped a five-set nail-biter to Argentina in their first match, 19-25, 25-19, 25-22, 20-25, 9-15 but returned the favor on Sunday with a 5-21, 26-24, 19-25, 22-25, 15-9 victory on home soil. "We really needed a victory," said French Captain Marien Moreau. "We wanted to take 3 points but with 2, it's still good. We played well during the first two sets but Argentina then recovered their fighting spirit."
Pool C: All eyes were on Havana this weekend to see which volleyball powerhouse, Russia or Cuba, would come out on top of their double-header. In the end, neither did as the teams split the series, with Cuba winning the opener on Friday 3-2 (25-18, 24-26, 22-25, 25-23, 15-11) and Russia exacting revenge the following day 3-2 (21-25, 25-19, 25-18, 20-25, 13-15). Both teams agreed that Cuban errors made it much easier than it should have on the visitors in the second match.
"We played better tonight, but we benefited from all the errors Cuba made," said Russian captain Alexey Kazakov.
Russian coach Daniele Bagnoli issued a helpful warning to Cuba ahead of its upcoming matches against Japan this weekend. "Cuba has to play carefully against Japan," he said. "Cuba has a chance to play well overseas, but they have to work on their errors in order to improve their game."
In other Pool C action, Japan and Bulgaria traded 3-1 victories in Europe. Bulgaria was feeling confident after a comfortable 26-24, 19-25, 25-21, 25-22 victory on Friday, but were made to pay for their complacency two days later as they fell 16-25, 25-14, 24-26, 21-25 to the visitors. Things won't be any easier for the teams this weekend, as Japan hosts Cuba and Bulgaria visits Russia.
Pool D: After rolling over Poland last week, Brazil continued its domination against Finland, winning 3-2 and 3-0. The Finns gave everything they had in Friday's 25-22, 26-28, 25-16, 23-25, 15-9 loss, but were quickly disposed of by the South Americans on Saturday, 25-17, 25-19, 25-20. Despite dropping to 1-3 and the bottom of the pool, Finland coach Mauro Berruto was still appreciative of the way his team performed against the mighty Brazilians.
"I am really proud of the Finnish team," Berruto said after the five-set thriller on Friday. "We played a spectacular match against the best team in the world. We overcame many problems to play at such a high level."
Poland, meanwhile, rebounded from its two losses to Brazil on opening weekend to sweep Venezuela on the road in round two. The Europeans scraped out a 2-3 (25-21, 19-25, 25-20, 25-27, 11-15) win on Friday before cruising to an 0-3 (21-25, 11-25, 18-25) victory Sunday.
Results after Round 2:
Pool A
1. Netherlands, 3-1, 10 pts.
2. USA, 3-1, 8 pts.
3. Italy, 1-3, 3 pts.
4. China, 1-3, 3 pts.
Pool B
1. Korea, 2-2, 6 pts.
2. France, 2-2, 6 pts.
3. Argentina, 2-2, 6 pts.
4. Serbia, 2-2, 6 pts.
Pool C
1. Cuba, 3-1, 9 pts.
2. Russia, 3-1, 9 pts.
3. Bulgaria, 1-3, 3 pts.
4. Japan, 1-3, 3 pts.
Pool D
1. Brazil, 4-0, 11 pts.
2. Poland, 2-2, 5 pts.
3. Venezuela, 1-3, 4 pts.
4. Finland, 1-3, 4 pts.
Source: Universalsports.com
---
Related News
---