Some U.S. port cities are putting plans in place to increase travel and trade with Cuba
Submitted by: admin

06 / 18 / 2009
---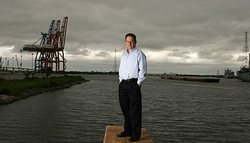 U.S. lawmakers are still far from lifting the 47-year-old trade embargo on Cuba, but the election of Barack Obama, along with a Democratically controlled U.S. Congress, has some city leaders banking on improved relations.
In New Orleans, city officials met recently with trade and Cuba experts to discuss how to rekindle relationships in Cuba and bolster trade with the island if relations improve. Leaders also plan to take part in a trip to Cuba with Tulane University this fall.
"We have the right geography, given where we're located, as well as historic ties," says Councilman Arnie Fielkow. "We need to start developing the relationships and getting ready for the time when the U.S. brings down the embargo."
Other developments include:
• Mobile, Ala., is adding its representatives to a group of 60 state and trade officials visiting Cuba in July.
• In a recent report, the Greater Miami Chamber of Commerce analyzed the economic impact to the city if the embargo is lifted, even if Cuba remains communist.
• Rep. Kathy Castor, from Tampa, has requested that her city be allowed to have direct charter flights to Cuba to let Cuban Americans more easily visit the island.
Through executive order, Obama already has made it easier for Cuban Americans in the U.S. to visit relatives in Cuba and authorized expansion of telecommunication service to the island, says John Kavulich, a policy adviser with the U.S.-Cuba Trade and Economic Council, a non-profit group that provides information on trade issues with Cuba.
Congress also has loosened restrictions on sending agricultural items, he says.
Increased trade with Cuba could bring a much-needed economic boost to port cities at a time when communities are looking for ways to weather the recession.
"It would be good for everyone all around," says Steven Cernak, director of the Port of Galveston.
However, even if restrictions continue to relax, Cuba is drowning under large amounts of debt and has a reputation for not paying bills on time, Kavulich says. U.S. companies are willing to sell Cuba rice, poultry and other items allowed under the embargo because U.S. law requires Cuba to pay upfront, he says.
"There are always those who believe that Cuba represents a country like Saudi Arabia 90 miles south of the U.S., with unlimited resources," Kavulich says. "The reality is Cuba remains a bankrupt country."
Loosening up gateway of New Orleans
Havana and New Orleans were two of colonial Spain's most important New World ports in the 18th and 19th centuries. The two cities were vibrant trading partners right up to the 1962 U.S. embargo, Fielkow says. That tie is one of the reasons New Orleans is seeking stronger links with Cuba.
Even under the embargo, many of the products allowed into Cuba come through the Port of New Orleans, says Robert Landry, the port's marketing director. The port has seen a steady increase in the amount of poultry dispatched to Cuba, from 9,500 tons in 2005 to 18,500 tons last year, according to port records.
Bolstering that relationship could significantly improve the city's economy, still battered by the 2005 floods, and recapture New Orleans' status as a "gateway to the Americas," Fielkow says.
Mobile, Ala., rooted in history with Cuba
The ties between Mobile and Cuba stretch back more than 300 years. Pierre Le Moyne d'Iberville, the French-Canadian trapper who founded Mobile in 1702, is buried in Havana's cathedral, says Mobile Mayor Sam Jones. (D'Iberville's brother, Jean-Baptiste Le Moyne de Bienville, later developed New Orleans.)
A 9-foot-tall statute of d'Iberville stands in downtown Mobile, facing Havana.
A similar statue stands on Havana's seaside Malecon, facing Mobile, Jones says.
The loosening of trade restrictions with Cuba "has been something we've been waiting to happen for some time," Jones says.
Jones may still have awhile to wait, says Phil Peters, a Cuba analyst with the Arlington, Va.-based Lexington Institute. Changes to the embargo would likely require Cuban officials to make notable economic, democratic or human rights changes, he says. Lifting of the embargo "is a few steps down the road still," Peters says.
(USA Today)
---
Related News
---