Slancio walks slow but steady, they make jazz preserving the Cuban roots.
Submitted by: admin

06 / 18 / 2009
---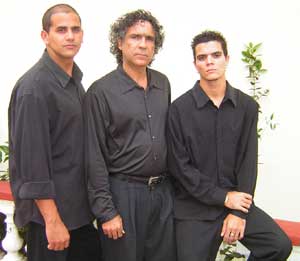 The group has outlined their goals very carefully since the very beginnings, they make jazz preserving the Cuban roots. In addition, contribute to the professional training of the middle level students of Carlos Hidalgo music conservatory.
The trio has a demo recorded at Servando Blanco's studio in our province, which includes pieces of Pinar del Río authors.
They play their music in some night spaces of the territory with an own repertory, but also interpret remarkable jazz pieces of Miles Davis, Chic Corea, Charley Parke and Antonio C. Jobin.
Jazz and good times
Asking the director about why they chose this music, Pérez Abreu stated: "This is the freest, most direct and democratic way I have found to express my artistic ideas, besides I am the kind of person that bets on good music and think jazz is worth it.
"We have had important moments all along our career, an example of that was during the release of Cauce magazine at Pedro Pablo Oliva workshop-house, we played there and the audience really liked it, so the trio was very satisfied and that was the spur to keep working.
New projects
Slancio is walking, now they are about to record the second demo at Servando Blanco's studio and to make a video clip produced by Luis Hidalgo Ramos.
(Guerrillero.cu)
---
Related News
---