A Cuba Paradise: Iberostar Varadero
Submitted by: admin

06 / 07 / 2009
---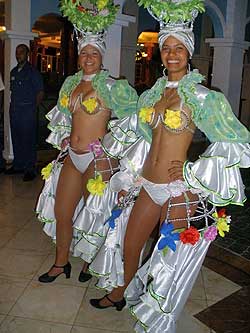 They say that weddings and honeymoons here are amazing - the ultimate in romantic flavour".  He went on, "I think that I will have my honeymoon and wedding here.  There can be no better abode than this luxury hotel to begin one's married life in this magical aura."  " With all the beauty around us, no doubt he has the right idea", I thought to myself as I ordered another drink served by a smiling young woman.        
The man apparently knew a good thing when he saw it.  The hotel, a five-star abode, is absolutely gorgeous, ideally located right next to a seductive beach and surrounded by lush tropical greenery.  The beach is a part of the renowned Varadero Beach, Cuba's number one tourist destination - a stretch of 20 km (12.5 mi) of sugary- white sand.  One can say with much truth that this beach is out of this world – a clear blue sea gently washing the powdery white sand.  Lovers can enjoy starry-eyed strolls down the beach, which is rarely crowded and a couple can always find their own secluded spot.   
The setting of the hotel, which opened its doors in 2004, is beautiful and the grounds are attractively landscaped, easy to navigate, well laid out, excellently maintained and very clean and tidy. Considered as one of the top hotels in Varadero, Iberostar Varadero, which imbues the charm of a tropical mansion, includes 11 buildings housing a total of 386 very comfortable rooms.  There are 3 outdoor swimming pools, one of which comes with a Jacuzzi, another with a complete entertainment programme, and another is specifically for children.   The hotel offers coordinators and other staff for weddings, 6 bars, 4 restaurants and the best of other facilities that are found in 5-star hotels.
The pools are inviting and visitors, especially honeymooners, almost never feel the place is over-crowded. The architecture is elegant and the food is exquisite - lots of variety.  Above all the staff, as the icing on the cake, is very friendly and provide top-notch services.
With this background it is easy for honeymooners to think that they are spending their wedded bliss in an earthly paradise.   Most honeymooners and tourists who have stayed in this hotel, I am sure will agree with me when I say, this seaside abode is fantastic.
To ensure that their wedding event is a dream come true, there is all the exoticism and warmth of a truly Cuban welcome.  There are a large team of wedding planners who are at the bridal couple's service to personally organise their special day in order to make sure that this most personal of events is performed without a flaw.
It all begins with usually the wedding taking place at the beach gazebo, situated right on the beach with the ocean murmuring in the background an ode to love.  The service is a civil type service, but the couple is required to say their own vows.  On average, about two weddings a day take place, but the staff and wedding co-ordinator ensure that a couple's wedding feels very much like it is the only one being performed that day and try to imbue a romantic atmosphere to the ceremony.
Many times honeymooners return home, not knowing much about Varadero itself being totally spoiled at Iberostar Varadero with its high standards of service, cleanliness and food.  They enjoy the ambience of the hotel so much that they do not feel a need to leave their honeymoon abode. The hotel's fantasy-like aura entraps them and they have no urge to enter the world of cars and shopping – an ideal spot with lovers engrossed with each other.
Here honeymooners will find peace, quiet and diversion, or if they so desire, there are available catamarans, golf, horse riding, kayaking and waterskiing.  It is an idyllic world that is hard to leave.  One newly married couple when asked how they enjoyed their one-week wedding and honeymoon in Iberostar Varadero said:  "Our wedding exceeded our expectations. It was perfect!  All we can say is wow!"
After getting a feel of the hotel and its setting, Iberostar Varadero and a fabulous wedding-honeymoon was a picture that quickly formed in my mind. However, the hotel is also ideal for families and couples of all ages.  In the words of a businessman that had with his wife spent two weeks in the hotel, "We would definitely recommend this hotel. Cuba is such a lovely place and this hotel makes it even more enchanting.  We greatly enjoyed our holiday here!"
(www.lovetripper.com)
---
Related News
---