New kind of tilapia, genetically improved, is being introduced in Cuba
Submitted by: admin

06 / 02 / 2009
---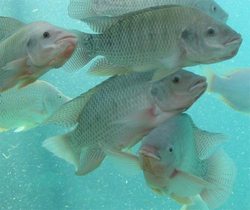 A new kind of tilapia, genetically improved, is being introduced in Cuba by the National Fishery Distributing Industry in order to increase fish supplies for the population.     
Dacio Gutierrez Padilla, head of the program to develop tilapias in cages and ponds in Cuba, explained to the press that these fish show a higher degree of daily weight gain, up to four grams a day, compared to other species in the same period of time.
In a national workshop on the handling of tilapias, held in this province, Gutierrez Padilla said that the Nilotica, name of this species, grows faster and that it adapts easily to new conditions.
The fattening of young fish with vegetable protein feed, composed mainly of soy beans, is carried out as intensive culture in cages and ponds for a six-month period when they gain 300-400 grams on average.
This central Cuban province acts a reproduction bank of this fresh water species and it is in charge of supplying specimens with a weight of over 250 grams, ready to reproduce, to other provinces such as Sancti Spíritus, Camagüey, Holguín and Granma.  
(PL)
---
Related News
---