Only metallic lighthouse of the Caribbean turns 107 years as the guardian of the Cuban western sea
Submitted by: admin

05 / 15 / 2009
---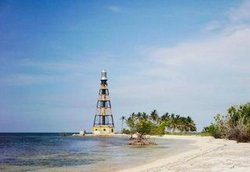 Only of its kind in the Caribbean region, the lighthouse resisted the devastating hits of hurricane Gustav, which slammed this province with 340 km/h wind gusts.
Experts affirm the lookout is really healthy even after challenging the fierce storms and the close impact of waves, which in hurricane seasons hit the steel foundations of the tower.
Inaugurated in May, 1902, in an islet of Minas de Matahambre municipality, the lighthouse is erected 134 feet over the sea level.
Ever since it has beaten over a hundred hurricanes, which left their traces in Pinar del Río, 140 kilometers from the Cuban capital.
To avoid maritime accidents, catch sight of unreliable origin ships and wrecks, are some of the missions of the ancient tower.
Its construction was stipulated by royal decree on January 3, 1888, aimed at avoiding the frequent accidents formerly occurred there.
Present day, it is the only survivor of its kind after the disappearance of two similar lighthouses functioning in Cuba in the beginnings of the past century.
In spite of its 107 years of creation, the tower remains intact out and inside, keeping the original French pieces, among them the lantern and the lens.
The lighthouse of Jutías Key is one of the 16 structures in the country with maritime surveillance and signalling.
Given its originality this jewel is part of the heritage wealth of Cuba.
(Guerrillero.cu)
---
Related News
---