Radio, and TV Martí to Downsize, Revise Format of Broadcasts to Cuba
Submitted by: admin

05 / 14 / 2009
---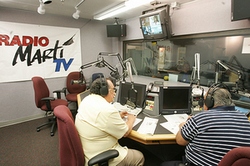 The $32.4 million request from the Broadcasting Board of Governors—which distributes U.S. programming overseas in 60 languages—reflects a 7 percent cut for Cuba broadcasts, but the agency has sought more funds to broadcast in places like Afghanistan, the Herald says.
Radio and TV Martí, which together employ 160 people, will lay off 20 percent of its staff. "We will need to cut 35 jobs, 10 of them already vacant," Pedro Roig, director of the Office of Cuba Broadcasting, told the Herald's Frances Robles. The layoffs and format changes won't take effect until October, but some Martí staff said they've already decided to quit.
Radio Martí will go to an all-news format, cutting down on the amount of commentary, and TV Martí will broadcast shorter, more frequent TV news segments, consisting of a five-minute news update every half hour, the Herald and the Associated Press say.
Critics say Martí's broadcasts have small audiences, and the programming is dull, Robles notes. Havana constantly jams the signals. A U.S. government survey found fewer than 1 percent of 1,200 Cubans reached by phone last year said they'd listened to Radio Martí in the past week. "But the same report said nearly half of new Cuban arrivals to the United States said they had listened to the broadcasts in the past six months," Robles adds.
(knightcenter.utexas.edu)
---
Related News
---