In Cuba: Avilanian People Ready to Produce More Food
Submitted by: admin

05 / 14 / 2009
---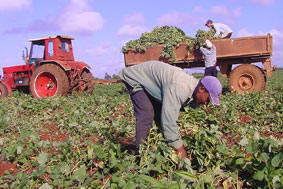 Tapia Fonseca expressed to the AIN that all the municipalities and the main agricultural enterprises of the province joined the works to obtain more roots, vegetables and grains, after the passage of the 2008 hurricanes.  
Among the results attained so far, mention should be made of the recovery of almost all the plantain plantations devastated by the hydro-meteorological phenomena. The first replanted areas are already contributing about 1 500 quintals a day, the leader said.  
He also added that it is worth mentioning the 1 119 000 quintals of potato already produced, as well as the industrial processing of 20 000 tons of tomato puree, which figure exceeds the plan and prevents the country from importing the product.   
The agricultural sector –as he expressed- carries out the staggered sowing of other roots to take maximum advantage of the fertilizers used in the potato plantations. This sector has also prepared 25 hectares of semi-covered crops to provide the population with vegetables during the summertime.  
The Avilanian farmers count on an assessment project that allows them to choose the seeds that best fit the different soil types and environmental conditions of the areas.
Specialists of the National Institute of Tropical Roots consider that the project reduces the climate change impact and guarantee short cycle productions all year round.  
The territory is also carrying out a long-term project to plant fruit-bearing trees while inserting short-cycle crops in the same fields in order to favour the production of food in the province.
(Invasor.cu)  
---
Related News
---