Cuba Human Rights Council (UNHRC) Re-Election
Submitted by: admin

05 / 13 / 2009
---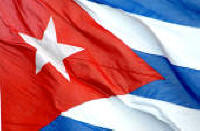 In remarks to Prensa Latina, Moreno, who is also Deputy Foreign Minister, said that as a founding member, and now re-elected, Cuba will continue participating and cooperating actively in the work of the UNHRC.
"We will keep on defending genuine dialogue, cooperation and mutual respect in the field of human rights, based on truth, justice and the just aspirations of millions of people on the planet, especially from developing countries," he said.
The Cuban diplomat said that this result achieved today at the General Assembly "constitutes a fresh push for my country to continue promoting its modest international solidarity and cooperation in the field of human rights with the peoples worldwide."
He added that the 163 votes won today are irrefutable evidence of Cuba's historic prestige "in the promotion and protection of all human rights for all Cubans."
(ACN)
---
Related News
---