A national tour with nine rock music bands will take place for the first time in Cuba
Submitted by: admin

05 / 08 / 2009
---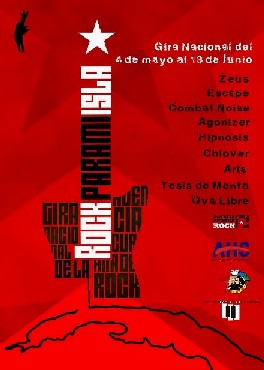 Sponsored by the Cuban Rock Agency, the performances will be hold by the groups Zeus, Escape, Chlover, Combat Noise, Hipnosis, Agonizer, Kuba Libre, Tesis de Menta and Aria.
The first stage of the tour, from May 11 to 18, will cover from Santiago de Cuba to Camaguey; the second stage, from May 19 to 28, will take place from Ciego de Ávila to Cienfuegos.
From May 29 until June 13 will take place the third stage of this tour from Matanzas to the rest of the western provinces, including the special municipality of the Isla de la Juventud.
The presentations will take place in open plazas and spaces that are adequate for this musical genre, which incites dance and the interactive accompaniment of the public to the proposals of the artists.
Rock in Cuba may be considered already a consolidated movement that is contributing with its best characteristics to national culture and which has received over the last few years the support of the Hermanos Saíz Assosiation, which is sponsoring encounters and festivals such as the well known Caimán Rock.
The Maxim Rock was recently inaugurated in this capital. This location offers normally concerts, album presentations, theoretical events on the genre and encounters with rock bands from other countries.
The term rock and roll has a nautical origin and was used by sailors fro centuries, it refers to the movements made by a ship back and forth and from side to side and may be traced in English literature from the seventeenth century.
It went into black spiritual music in the 19th century with a religious meaning and during the 1950's served as a name for a music that surged in the United States, which was made up of different traditional genres.
(Cubarte)
---
Related News
---