Restores Historic Monument in the Cuban province of Holguin
Submitted by: admin

05 / 06 / 2009
---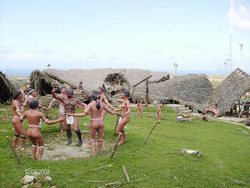 This sector of the cay, which is closely related to the history of Cuba, is the site of the landfall of Christopher Columbus on October 28, 1492.
It had been severally affected by erosion. This natural phenomenum, which has worn some 150 meters away from the coast in a millennium, has been particularly visible in recent decades and had threatened the museum, built on a site of the material traces of what was the first Aboriginal fishing community discovered by Christopher Columbus.
Jesus Franco, Engineer from the Center for Research, Technology and Environmental Services, explained that circumstances associated with the geological characteristics of the coast had influenced the erosion.
The global climate change, the prevailing hydrodynamic regime and vegetation deterioration, essentially replaced by areas devoted to the cultivation of coconuts, have also had a bearing on the erosion.
The restoration work aims at renewing the landscape of Bariay, a place of undeniable tourist attraction, 45 km north of the city of Holguin, in the municipality.
(AIN)
---
Related News
---