Van Van among 2009 Cubadisco Nominees
Submitted by: admin

05 / 01 / 2009
---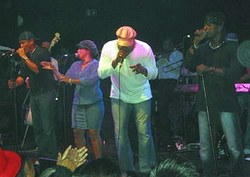 Los Van Van, Cuba's most popular salsa band led by bassist Juan Formel, has been nominated in five categories of the International Cubadisco Music Award, to be held in Havana on May 16-24. The album "Aqui el que baila gana," the best CD of that musical group in history, was nominated in the categories of Testimony, Audiovisual Concert, CD-DVD, Live Recording, and DVD Design.
The CD includes a 2009 live performance at the Havana Karl Mark Theater, as well as a documentary of the tour the orchestra did throughout the country and its successful show on Cuban stages.
Together with Los Van Van are the CD "Amigos," by singer Raul Paz, recorded by Bis Music label, and album "Señales," by brother M and X Alfonso, from the EGREM label, is on the category of audiovisual concert.
Also on the list are "Rapsodia sobre un tema de Paganini," by Marcos Madrigal and Gloria Arguelles, from the Cuban Institute of Art and Film Industries, "Clasicos de Cuba," with Cesar Lopez and Habana Ensemble, accompanied by Havana Chamber Orchestra.
In the CD-DVD category are also "El cantar del caballero y su destino," by Jose Maria Vitier, from Producciones Colibrí label, and Aguas revisitadas, a CD with songs by Amaury Perez, also from Colibri label, among others.
In live performance are also Bembedoble by Bobby Carcaces, from Producciones Colibri record label, and "Amigos," by Raul Paz and Mateo Picornelli, from Bis Music record company.
In DVD Design are "Lo que tu querias," by Gardi, recorded by EGREM label, "Mi deseo, Son del Nene," by Alnufo Espinosa and Angel Alderete, also from EGREM, among others.
Source: Juventud Rebelde
---
Related News
---