In Cuba Caribbean Culture Festival
Submitted by: admin

05 / 01 / 2009
---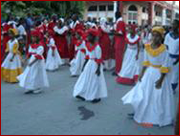 More than 20 countries confirmed participation in the 29th Festival of the Caribbean to be held July 3-9, informed Organizing Committee sources.
After 28 uninterrupted festivals the event will be dedicated to Caribbean Garifune (Black Caribs) people and Honduras that will be represented by about 300 participants offering a sample of rich artistic diversity in the region.
Theoretical sessions on the Caribbean that Bonds Us will deal with issues concerning migratory processes, diasporas, traditional popular culture, the individual, hegemony and power in the contemporary world, inter-Caribbean relations and Cuba, Honduras and Central American nations.
The Garifune people, as an example of a culture of resistance in the Caribbean, will be the center of attention of scholars and cultivators of deep and secular roots in the lands bathed by this sea and that extends from Panama, Guatemala, Honduras and Belize.
In addition to this broad Latin American presence, the Fiesta del Fuego will also count on participants from France, Russia, Great Britain, the United States, Austria and Spain.
About 67 areas will function with music, theater, dance and fine arts programs in the city and neighboring areas with groups who portray traditional popular culture and will extend its proposals to the neighboring province of Guatanamo.
Source: CubaSi
---
Related News
---